The Amazon: 'Too big to fail'. Roundtable
The Amazon is in crisis. Time is running out. Hear how new economic models are working to save it.
By

GEC

·

08th September, 2020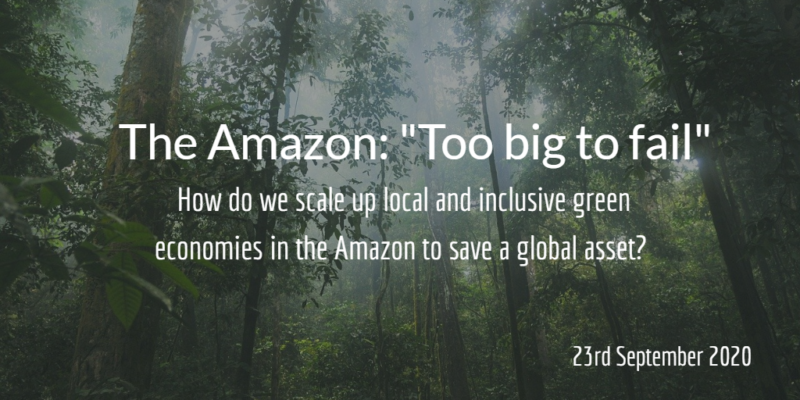 You depend on the Amazon. We all depend on the Amazon.
One of the few remaining natural buffers against global climate change and home to the richest biodiversity on earth, rainfall from the forests feeds the entire South American continent. It is also home to the hundreds of indigenous communities who have unique knowledge of their surrounding forests.
But the Amazon and its people are facing crisis. If deforestation continues at the same pace, driven by inequality and poor economic productivity, and as temperatures continue to rise, scientists are predicting a forest collapse.
Urgent and joined-up action is required to protect our global life support system - we all depend on it.
The Sustainable Amazon Foundation (FAS) has been based on the ground in Amazonas for 12 years. It has built up a unique testbed and evidence of new economic models that are working in the region - helping people who help forests.
We invite you to join a panel of experts and international practitioners for a global Roundtable tackling:
How do we scale up local and inclusive Green Economies in the Amazon?

Speakers include:
Oliver Greenfield, Convener, Green Economy Coalition
Virgilio Viana, Director General, Sustainable Amazon Foundation (FAS)
Izabella Teixeira, Former Brazilian Environment Minister
Jamie Ervin, Global Programme on Nature for Development, UNDP
Gregory Watson, Lead Specialist, Natural Capital Lab, Inter-American Development Bank (IDB)
Asad Naqvi, Head of the Secretariat of The Partnership for Action on Green Economy (PAGE)
Claude Gascon, Manager of Programs of the Global Environment Facility (GEF)
Together with the Roundtable participants, we will discuss why progress on slowing deforestation has struggled; what are the key challenges and opportunities for the Amazon; and what we need to do to catalyse inclusive green economies at scale.
Join us to share your research, interact with other specialists, and shape a strategy for an Amazon Green Economy Hub.

When: 23rd September 2020; 10:30 - 12:00pm (US, Eastern Daylight Time)
Where: Virtual Roundtable, part of the Sustainable Development Solutions Network.

Register here (please note this Roundtable is Session 2, starting 10.30 EDT)
For more information contact us.
Live stream here:
Live streaming:
Roundtable Documents