The future of Indian eco-tourism
COVID-19 has hit India's nascent green tourist sector hard. Our partner's new research suggests ways to recover sustainable prosperity
By

Tanya Issar

Member

·

04th November, 2021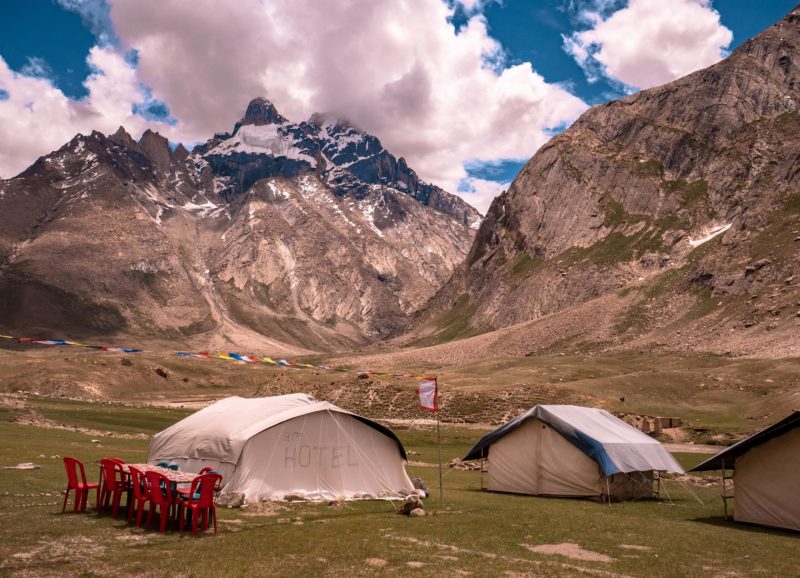 The inherent nature of capital means that it is cheap for the rich and expensive for the poor, hence it is always scarce for SMEs. This scarcity of capital is even more problematic for innovative new sectors such as eco-tourism...

The tourism sector is a vital part of India's economy and an important source for investment, business, and employment opportunities, contributing about 7% of total GDP in 2019. Tourism also benefits other related sectors like transport, handicrafts, food processing, and others, creating job opportunities, income, and local government revenue.
The vulnerabilities of the tourism sector
But this important sector has been hit hard by COVID-19. Almost 80% of the travel and tourism sector is made up of micro and small enterprises, making them especially vulnerable to disruptions in demand and income.
In India employment generation from the tourism sector has fallen from 12.75% in 2019 to 8.0% in the current year (Ministry of Tourism, 2020). Moreover, the Indian Himalayan Region, a strong tourist asset of India, is amongst the most fragile ecosystem on earth and thus experiencing increased frequency of extreme events.
The region is responsible for providing water to a large part of the Indian subcontinent and is known for its unique centres of cultural and biological diversity, but is susceptible to population pressure, global climate change, natural hazards, and rapid loss of habitat and genetic diversity. This is an increased risk to the lives and livelihoods of the communities in the region.

The urgent need for today is to utilise our natural resources sustainably with a focus on minimising their depletion and pollution. At the same time, it is important to note that the welfare of human society and is directly linked to the sustainable use of natural resources. Ecotourism thus has gained widespread acceptance in the tourism industry all over the country and mountain tourism has been identified as one of the fastest-growing sectors in the recent past.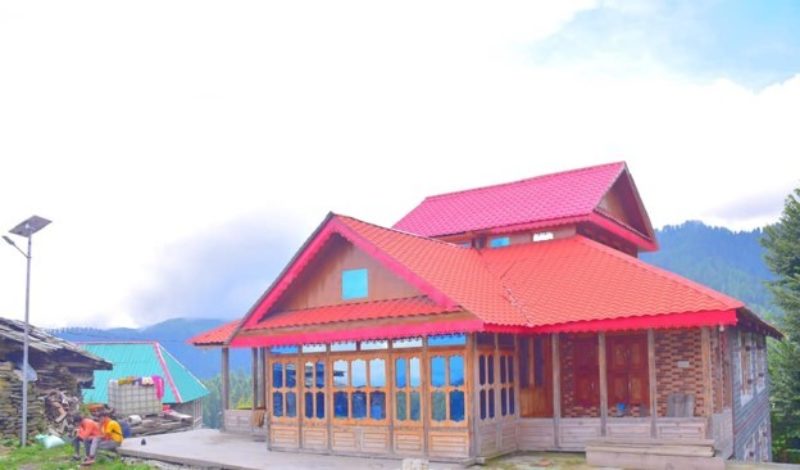 The states of Himachal Pradesh and Uttarakhand have recognised eco-tourism as having the highest potential for the economic development of the region and have initiated different ecotourism activities for livelihood creation as well as conservation and protection of the fragile ecosystem of the Himalayan region. However, Ecotourism is identified as a niche tourism area that is mainly popular amongst adventure/nature/wildlife enthusiasts. Thus, Ecotourism SMEs have faced many challenges.

The challenges mentioned here are based on case studies undertaken by Development Alternatives in Himachal Pradesh and Uttarakhand, which found that the ecotourist sector needs to chalk out a recovery plan incorporating challenges and perspectives of SMEs including rural communities, tour operators, agents, and upcoming responsible tourism startups.
The top 5 challenges faced by ecotourism SMEs
Lack of public infrastructure and inadequate marketing support from the government: Making any destination commercially viable requires good public infrastructure and a proper marketing strategy. However, the benefits of development and good marketing are unevenly provided. Himachal Pradesh which falls in Indian Himalayan Region is heavily dependent on tourism as an avenue for livelihood generation as it is blessed with a wide range of magnificent snow-capped mountains. However, the distribution of tourists' arrival across its 12 districts is highly uneven.
Violation of rules and regulations and illegal practices- A huge chunk of homestays and hotels are unregistered, leading to poor management of natural resources, greenwashing of ecotourism-based enterprises, and disputes within the industry. A huge chunk of businesses operate without license, authorization, and skills making it difficult to monitor sustainability criteria. A formal accreditation system for tourism enterprises would enable high-quality operators to succeed and provide quality assurance to customers as well.
Poor implementation of Homestay schemes and Credit Guarantee Trust Fund for Micro & Small Enterprises (CGT SME)- Financial institutes are much more likely to lend to large businesses than small ecotourist enterprises. Underdeveloped districts tend to face a finance gap from formal institutes due to low tourist arrival, meaning that locals from underdeveloped districts like Chamba and Mandi tend to migrate to major tourist hubs like Kullu in search of work and income. Major tourist hubs like Kullu-Manali, Mussoorie are now facing the brunt of overexploitation of natural resources and exceeding their actual carrying capacity.
The low financial footprint for the tourism sector- Initiatives taken by the government for the tourism sector mostly revolve around developing infrastructure to support tourism in India. The sector also needs backing from the government to support the operational cost of tourism SMEs as well which will ease the process of accessing finance from formal institutes.
Insufficient financial aid and limited scope of policy: The Himachal Pradesh Homestay Scheme was launched in 2008 to promote rural tourism and sustainable livelihoods, providing a subsidy of USD 106 to set up a homestay. However, the real cost of setting up a Homestay is much higher, covering basic infrastructure like rooms and toilets, furniture, and decoration. Current schemes must be expanded to include tax reduction for ecologically and culturally responsible businesses, which will enable individuals to invest more in the tourism sector and also develop a less-standardized, culturally rich tourism ecosystem in the country.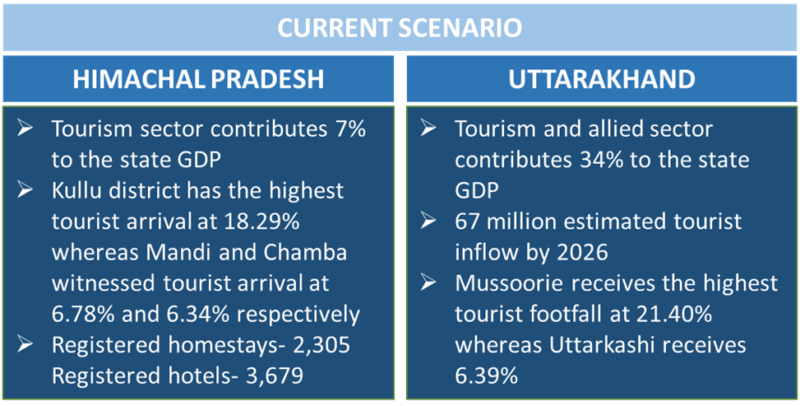 The way forward
Going digital can go some way towards addressing these problems. Firstly, it is affordable and secondly, it is the fastest way for local communities to connect with the world. Partnering with digital startups and established businesses such as Airbnb and NotOnMap, and using marketing tools such as video tours to offer a firsthand view of the experience being offered to potential customers. To boost other sources of revenue such as rural arts & crafts and food products partnership with e-commerce is highly recommended. This would enable the local entrepreneurs in reaching out to the wider market and advertising the homestays and other tourism services.
The government has taken initiatives to recognize the service sector in the new definition of MSME, removing the distinction between manufacturing and service-based MSMEs (India Today, 2020). With the revised definition of MSMEs, the tourism sector has been recognized as a service sector. It can now avail the same benefits being given to manufacturing businesses for quite a long time.
However, this alone is not sufficient. Government schemes must move beyond incentives for homestay construction and should include schemes for private individual investment into homestays through personal tax benefits. It has been observed on the ground that people are motivated to join the unconventional tourism bandwagon, but structural constraints and vulnerability to failure restrict the entrepreneurial spirit. Currently, the financial footprint of government schemes is very low for SMEs and needs to be more inclusive, thus garnering benefits for the local communities and the tourism sector.

- Tanya Issar, Deputy Manager (Policy and Planning), Development Alternatives
Bibliography
Economic Times. (2021, May). View: Travel, tour after stepping out again. Retrieved from Economic Times: https://economictimes.indiatim...
India Today. (2020, May 13). New definition of MSMEs and how it is different from earlier. Retrieved from India Today: https://www.indiatoday.in/busi...
Ministry of Micro Small and Medium Enterprises, GoI. (2020). Annual Report 2020-21. Retrieved from msme.gov.in: https://msme.gov.in/sites/defa...
Ministry of Tourism. (2020). Annual Report 2019-2020. New Delhi: GOVERNMENT OF INDIA.
Press Information Bureau, Government of India. (2020). Retrieved from 1. Press Information Bureau, Government of India. (2020). Ministry of Micrhttps://www.pib.gov.in/PressRe...
State Himachal Pradesh. (2020). Himachal Pradesh Statistical Abstract 2018-2019 Report. Himachal Pradesh: Himachal Pardesh Government. Retrieved September 28, 2021, from https://himachalservices.nic.i...
Tribune India. (2021, January 9). Why Himachal homestays mean business. Retrieved from Tribune India: https://www.tribuneindia.com/n...
Tribune India. (2021, January 9). Why Himachal homestays mean business. Retrieved from Tribune India: https://www.tribuneindia.com/n...