India
India is booming. It is one of the fastest growing economies in the world. Yet the current growth path is neither creating enough jobs nor helping the poorest. By 2020 India will face a shortage of 16.7 million 'missing jobs'. Poverty is persistent with over 58% of the population lacking means to meet their basic needs.
At the same time, India's ecological footprint is already double its bio-capacity. If it continues on the current path, consumption in India will exceed most developed economies combined in just 14 years.
Testing alternative pathways
Development Alternatives is bringing together diverse voices to explore what economic models can help the poorest live better lives within nature's limits. Gathering small and informal businesses, researchers, government and civil society, the India hub is:
Testing greener business models that are locally rooted but can go to scale
Connecting small and informal businesses to identify practical solutions and policies for greening their enterprise practices
Hosting nation wide dialogues and workshops what economic reform looks like for different stakeholders
Tracking the transition to green and fair economies at both the state and national level.
Join these debates on Development Alternatives' hub space.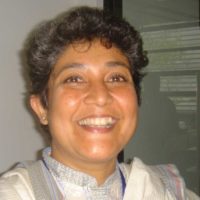 "By talking to the poorest – the people who most depend on nature – we are finding that the solutions already exist. The challenge is to make the politicians listen."
Meet our partners: