Peru's green 2018 in review
By

Leslie Forsyth

Member

·

04th February, 2019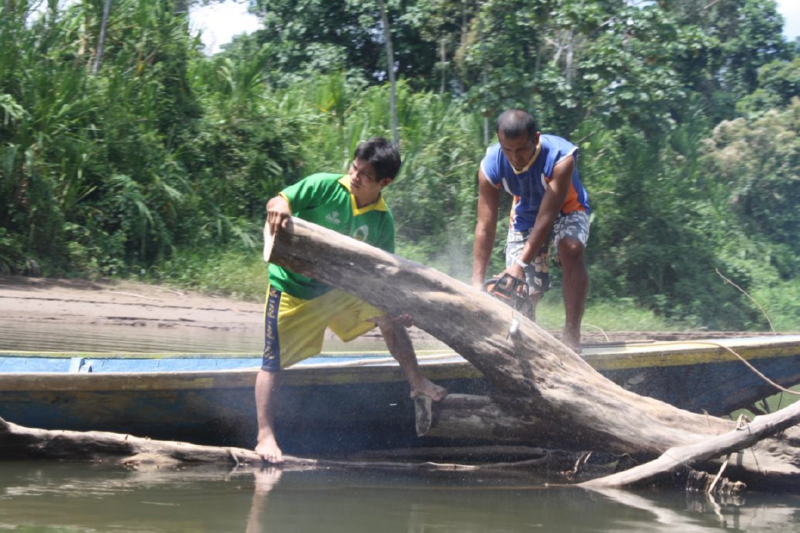 Leslie Forsyth is Executive Director of our in-country partner organisation in Peru, Foro Nacional Internacional. Here, she reflects on an important year in the local transition to a greener, more inclusive economy, and picks her top nine green initiatives that have broken new ground.

For Peru, 2018 was a very active year in many aspects, especially in politics and policy. Looking back, we've selected 9 important initiatives from this year of change and growth, which we think are particularly important for the protection of environment and indigenous people, and that should inspire new initiatives in this field during 2019.
1. Promulgation of a new Climate Change Law
Peru is a very biodiverse country due to its different geographical territories, however it is in a very vulnerable position regarding climate change, as this threats not only the ecosystems but also many indigenous and rural communities dependent on these territories. For the sake of preserving our environment President Vizcarra promulgated the Climate Change Law, being the first country in South America to have this type of law.
With this law a new framework to regulate different environmental measures will be created in order to tackle this vulnerability. This will also help to meet international commitments such as the United Nations Framework Convention on Climate Change (UNFCCC) and create new low carbon opportunities. The Ministry of Environment will be the responsible to lead the regulation of this law.
2. Promulgation of Plastic Law
In an historic action from Congress, the promulgation of the Plastic Law seeks to regulate the fabrication, import, distribution and consumption of thin film single use and disposable plastic and polystyrene made for food or drink products fabricated for human consumption.
This type of plastic impacts in a direct and negative way in the terrestrial and marine environment for many different reasons. First of all, when it degrades it converts into microplastic pieces which are generally ingested by fish and other marine animals which not only affects their health as it can cause blockage of their digestive system, but as they form part of the food chain it also affects humans that consume them.
" In a country with such an important marine biodiversity as Peru, plastic waste presents an enormous hazard for marine species and for the economic activities that depend on such ecosystems."
Plastic residues are also a physical threat for animals (such as turtles, seabirds and shellfish) as they can tangle up causing starvation, suffocation, reduce reproduction and even their death, deeply affecting the ecosystems. In a country with such an important marine biodiversity, as Peru, this presents an enormous hazard for marine species and for the economic activities that depend on this. Finally, from an aesthetic point of if view, plastic residues affect the environment of beaches and forests as it become litter that is transported by water.
Although it has been approved by the Congress and promulgated by President Vizcarra it still has to be regulated by the Ministry of Environment, by controlling these products, new green alternatives and initiatives will be promoted to reduce negative impact. It is important to mention that this law will not apply for certain cases such as plastic straws used by hospitals, or plastic bags used to transfer foods in bulk or food of animal origin that are justified because of hygiene.
3. Indigenous & protected territories safeguarded from roads
The promulgation of this law is fundamental for the safeguard of the environment and indigenous peoples in isolation and in initial contact in the Amazon. Through decades, the expansion of road networks intruding indigenous territories as well as primary forests have affected people and biodiversity, as it causes the degradation of natural habits. Road proximity and traffic intensity has an immediate negative impact but also potential future impacts as it allows illegal activities to reach these territories, being more serious and difficult to control.
The proposal of new routes and roads in the Amazon have had the rejection of indigenous as well as conservation organizations as they seek to avoid the construction of roads or infrastructure that could damage the environment. For them, this decree is a considerable progress. Nonetheless, there are still remaining challenges to guarantee the fulfilment of rights of indigenous peoples in isolation and in initial contact, as three different draft legislations intend to repeal this law, as there are many economic interests in building new roads to reach the Amazon and its wealth. It is essential to preserve the important ecological processes that take place in the Amazon, so the implementation of this law has to be very efficient.
4. Twelve new protected areas were created in 2018
Protected Areas are a conscious effort and a fundamental tool for safeguarding biodiversity, very valuable for the environment, and for reducing poverty in rural and indigenous communities, despite this many of them are being deforested by humans within and outside their boundaries.
At present there is a wider recognition for the socioeconomic and cultural values that natural ecosystems provide, complementing the environmental importance. Protected Areas are very important to encourage local communities' participation in preserving the environment under shared responsibility, as in many cases they support by monitoring and managing these territories. During 2018, 12 new Protected Areas were created promoting the protection of the environment as well as the people that depend on them. Yaguas National Park is one of the Protected Areas created in 2018, this area has an extension of 868,927 hectares where one can find one of the most diverse flora and fauna species.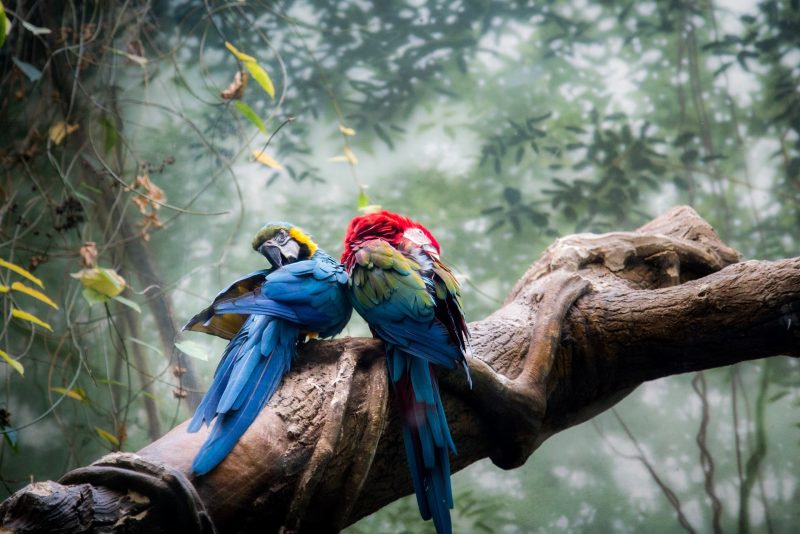 5. Old phones protecting forests from illegal logging
A group of specialists designed an alert system to monitor and protect the forest in the Tambopata National Reserve from illegal logging. This system was created by Rainforest Connection and is being implemented by the Peruvian Society for Environmental Law (SPDA) and the National Committee of the Netherlands (IUCN). Abandoned cellphones are used as technological tools and are installed in the tree canopies to detect unusual sounds such as chainsaw to send an alert to authorities.
Illegal logging is a serious issue in Peru, 90% of forested land in Peru is classified as primary forest, mainly in the Amazon where there is little supervision and guard from authorities as well as a lack of resources and capacity to confront this problem. There is a big "laundering machine" which works to "clean" wood extracted in an illegal way to trespass weak frontiers in a "legal way" changing the origins of timber. To export wood, formal paperwork and specific permit documents are needed to demonstrate that timber has been extracted in a legal way, papers which are sold in a black market. This system allows the devastation of enormous territories and undermine communities whose livelihoods depend on these forests generating a negative social impact.
Madre de Dios loses 4,437 hectares approximately of forest every year, so solutions for sustainable results are needed to prevent the logging before it gets in the laundering machine of paperwork. The Rainforest Connection initiative won the best innovation for development price from The Spindle, and its objective is to take this initiative all over the Amazon. Deforestation also reduces the amount of carbon stored in trees, so reducing it is very important to prevent climate change.
6. A carbon-neutral Dakar Rally for 2019
The famous Dakar Rally took place in Peru in January 2019, the first time the rally has been held entirely within one country. The organization has always tried to reduce its ecological impact, and this year the program will compensate its carbon footprint through the Dakar ecolabel which will judge the team participants through their forms of reducing their ecological footprint by garbage management, use of energies, the search and use of renewable energies, among others.
This year, Dakar will finance the Madre de Dios REDD project with 100,000 hectares of Amazonian forest in the Vilvabamba- Amboró conservation corridor which is a very important biodiversity spot as it is home for 35 endangered species of flora and fauna. This will also have a positive impact in the native communities around the corridor such as the Yine, Huitoto, Mascho Piro. Additionaly, Dakar will finance 5,000 tons of carbon credits in National Park Cordillera Azul.
7. Pope Francis' visit to Peru
Another noteworthy moment with a more symbolic significance was the influential speech Pope Francis made at his visit in January 2018, where he enhances the importance of the environment and sustainability in the use of resources and the need to respect indigenous people and their territories. During his stay he also visited Puerto Maldonado a city in the Amazon rainforest making another important speech. Both of these actions seek to promote the importance of being responsible in the use of resources seeking sustainable development and a fair distribution. This is very relevant in the actual context, as it makes visible indigenous people and their fight for rights under the different threats they live.
" Despite successful efforts to protect the environment and reduce emissions, Peru still presents major environmental challenges to overcome."
8. New competitiveness policy promotes sustainablity
This policy was intended to be approved at the end of 2018, nonetheless notes and recommendations from the Ministry of Environment based on the need for a more sustainable production in the climate change context delayed its approval and now it is expected to include all these notes in order to be published and regulate production in our country. Green growth is very important for the country and the economy as it will promote sustainable practices that will bring social and environmental benefits.
9. Green loans to promote a green capital market
This year Peru has received green loans from different institutions in order to promote the preservation of the environment. One of the loans is from BBVA Continental to Ferreycorp, for the amount of US$70 million, this is a corporate loan which is the first one for Peru and in South America which demonstrates the commitment of both companies with the environment and the improvement and implementation of green financial products in a future. For this case, Ferreycorp will be supervised in order to achieve its environmental and social indicators.
Another important loan has come from the Inter-American Development Bank (IDB) which will give Peru, US$50 million to promote environment sustainability through green initiatives implemented by the IDB related to energy, climate change, natural disasters, water and sustainable agriculture. These initiatives aim to reduce the carbon footprint and limit the negative effects caused by natural disasters.
Much more to do…
Despite successful efforts to protect the environment and reduce emissions, Peru still presents major environmental challenges to overcome. Characterized by fragile governance structures, Peru's illegal activities are very linked to law enforcement and corruption: drug trafficking, illegal logging and illegal mining. These activities are usually backed by criminal organizations which threat local people and authorities, evidenced by the murder of four indigenous men in 2014 and the intimidation of others. Two main obstacles appear: lack of political drivers and lack of enforcement capacity, as many of these territories are in remote places. 2019 has been named the "year of the fight against corruption and impunity" so we expect many of these problems to reduce in order to safeguard the environment. There is much still to be done.

- Leslie Forsyth, Executive Director, FNI
Filed In
Theme
Associated Hubs