Driving green economic recovery through public policy: The story of India
COVID-19 has had a devastating impact on India. How can the economy get back on track without further harming nature & climate?
By

Dr. Satabdi Datta

Member

·

15th December, 2021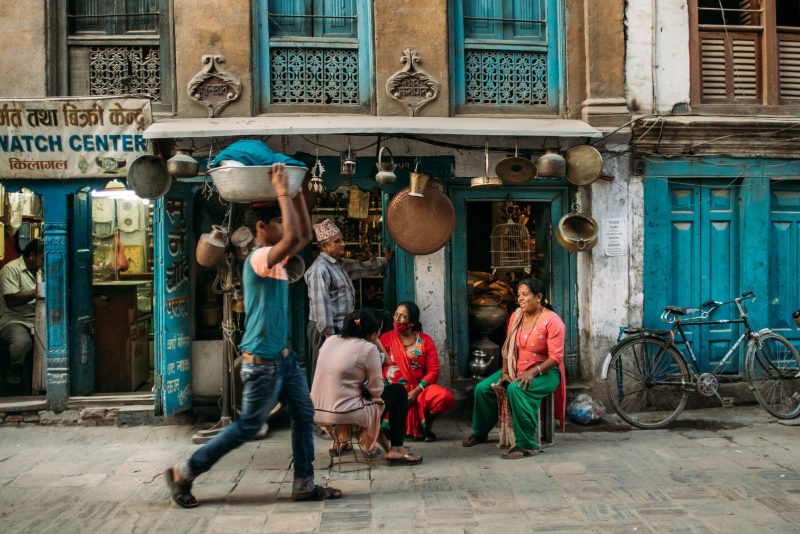 The GEC Insights series is a curated collection of articles at the intersection of environment and economics, each written by leading thinkers from the worlds of business, government and civil society. Part of our Economics for Nature project, they bring together diverse perspectives to answer the question: how can we re-design our economies to protect and restore nature?
---
The disastrous impacts of the COVID pandemic on lower income countries such as India are already evident, with disruptions both in the short- and long-term now emerging. World Bank figures show that India's macroeconomic and human development indicators have regressed, with severe consequences for different economic sectors, foreign trade, domestic supply chains, job losses, unemployment rates, wages. Finally, India's huge informal economy has been particularly disrupted, as have economically and socially marginal communities.

Recovering from the pandemic: The green path
Getting the economy stabilised is the immediate challenge facing policymakers and the government. Researchers and policy analysts agree that a five capitals approach is essential for a holistic recovery of economies and for enabling sustainable development that puts the country's stock of natural capital at the centre of enabling sustainable prosperity.
India is a biodiverse country with many varied ecosystems, so natural capital plays a critical role in the economy. Some of the major economic sectors like agriculture, mining, energy and the tourism sector heavily rely on natural capital, and these significantly contribute to job creation, income generation, micro and small businesses and rural development. Most of these sectors also have potential to address the challenges of poverty, income inequality and lack of economic, social and/or gender empowerment.

Additional external threats such as climate change also make the environmental system vulnerable, which has a further multiplier effect on these economic sectors. So the integration of nature with economic, human and social targets is key to enabling a green economic recovery that reduces human health risks, strengthens local and national economy and builds resilience to climate change and other external shocks.

What is India doing?
After the Indian economy bore the brunt of the pandemic, the government implemented policies, introduced schemes, made revisions in budgetary allocations and made multiple additional interventions to cope with the COVID economic and healthcare system crisis and to maintain economic stability and human wellbeing. As an immediate response to the pandemic, the government announced a COVID recovery package for India in 2020 (approximately US$260 billion) by targeting certain sectors that had been worst hit, were vital for the economic recovery, or had played a prominent role in the Indian economy.

Additionally, the annual budget (2021-22) of India (approximately US$467 billion) turned out to be highly relevant for post-COVID economic recovery, in view of the new schemes introduced, sectoral focus and breakdown of expenditures into revenue and capital components. To cope with the economic impacts of the pandemic and to enable an economic recovery, it is needed to prioritize ways to maintain sustainability and strengthen natural capital, ecosystem services and biodiversity for a green economic recovery. This implies taking action for nature-positive impact, or action that has indirect or unintended but positive impact on nature, as well as minimizing the negative impact of certain policies and programmes.

As part of a global study commissioned by the Green Economy Coalition and funded by the Mava Foundation, a country study on India identified and assessed the integration of natural capital in the post-COVID policy of the national government. The study came up with assessment of the direction (positive, negative or neutral) and degree of natural capital impacts of the post-COVID public policies of five sectors: agricultural and allied, MSME (Micro, Small and Medium Enterprises), power, mining and the social sector. The shares of allocations made in these five sectors in the two consecutive budgets mentioned before are shown in the pie diagrams above.
Overall, approximately 18% of the allocations made in the COVID recovery package was found to have positive influence on natural capital. The key highlights of the sectoral status of these two budgets are displayed in the following chart.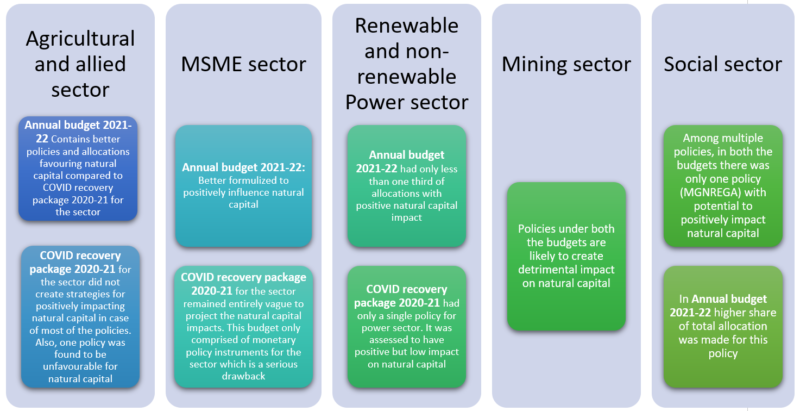 For some of the sectors, it was clear whether governmental policies and respective allocations had a positive or negative impact on natural capital. However the direction of impact was not clear in some policy announcements. Otherwise, certain policies with the potential to positively influence natural capital did not clearly outline natural capital outcome targets in policy objectives, thereby acting as a barrier to monitoring and evaluation to manage natural capital effectively.
There is also a positive side to the story. In the two consecutive budgets announced by the national government, certain policies were promoted with a significant linkage to natural capital, as shown below. These have real potential to drive green economic recovery.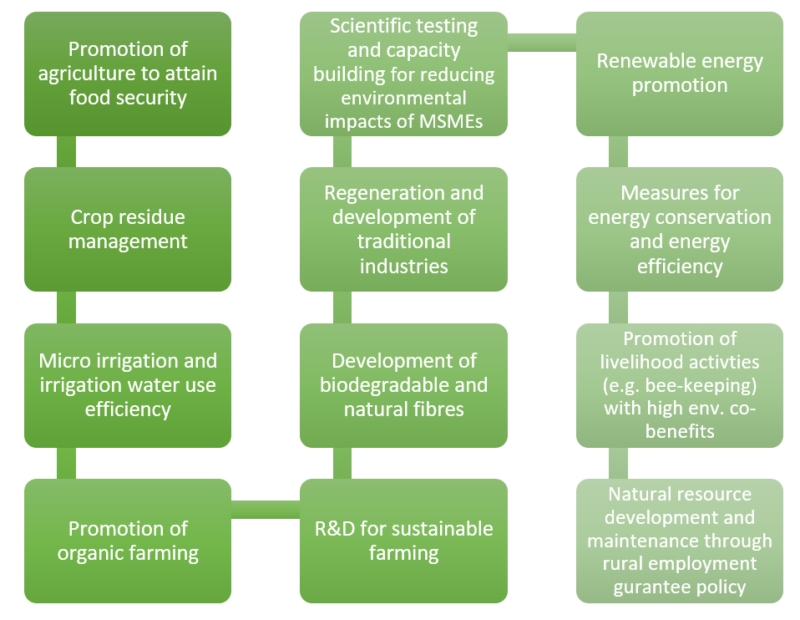 What else can the government do?

Given that available natural, human, financial and built resources, economic composition, short and long term developmental needs and regional risks and vulnerabilities largely vary across countries, a one-shot answer to green recovery is hard to find. In the context of India, there are certain strengths of the existing public policy scenario as well as some policy gaps, and plenty of scope to further drive a green recovery.
It is an opportunity for the country to reinforce pro-nature policies by defining natural capital oriented outcome targets, developing strategies for implementation, ensuring consistent availability of funds to run policies and programmes and to enable awareness generation, information dissemination and connectivity of those policies to eliminate inequality in access to policy benefits. Good governance is vital for this.
Furthermore, the government needs to work towards minimizing policy gaps such as policies or programmes with a detrimental natural capital impact, tackling the absence of vital environmental regulations, considering longer term recovery targets and addressing missing policies, data and assessments. Global lessons from green recovery, global targets and commitments and global, regional and national cooperation between relevant stakeholders would also play a significant role in this regard.

- Dr. Satabdi Datta, Development Alternatives