Webinar: Big business & the Indian green economy
By

Member

·

25th June, 2018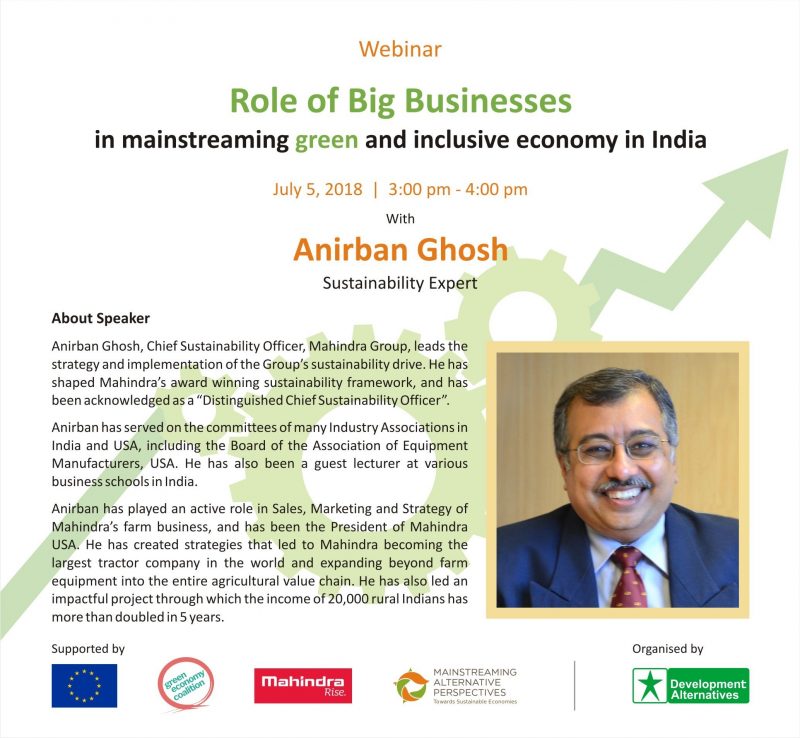 Our partners in India, Development Alternatives, are hosting an essential webinar on July 5th, exploring and discussing how business can support India's transition to a green, inclusive and sustainable future. 
The session will deliberate on vital issues of Indian development, with the mission of inspiring sustainability in policy and practice, both amongst the business community and policymakers. It is the third in the series led by Development Alternatives (DA), in partnership with Green Economy Coalition (GEC), as part of our global initiative on mainstreaming the green economy in seven countries around the world.

Our speaker, Mr. Anirban Ghosh, Chief Sustainability Officer, Mahindra Group, will identify the challenges with the existing Indian framework to support sustainable development and accelerate the transition towards green economy during the webinar.
This webinar will address the following questions:
Are our big businesses taking a resource-efficient, carbon-saving and ecosystem-conserving path of growth?
How responsive are big businesses towards greening the value chain and inclusive development?
Are our key sectors becoming decentralised and resource-efficient?
How can markets be geared towards increasing the demand for environment-friendly operations and products to encourage businesses to adopt these methods?
What are the possible collaborations that can be formed between businesses, communities and the government, to ensure a sustainable and equitable access to, and management of, natural resources?
Are the policy frameworks (resource taxes, subsidy reform, public procurement commitments) reassuring that potential investors prioritise sustainable consumption and production?
How can innovations in extraction and use of secondary raw materials be effectively encouraged in order to ensure sustainable development choices?