The People's Accord towards a New Social Contract
The moment for rebuilding the social contract is here: a call to restore trust and build solidarity
By

GEC

·

11th November, 2022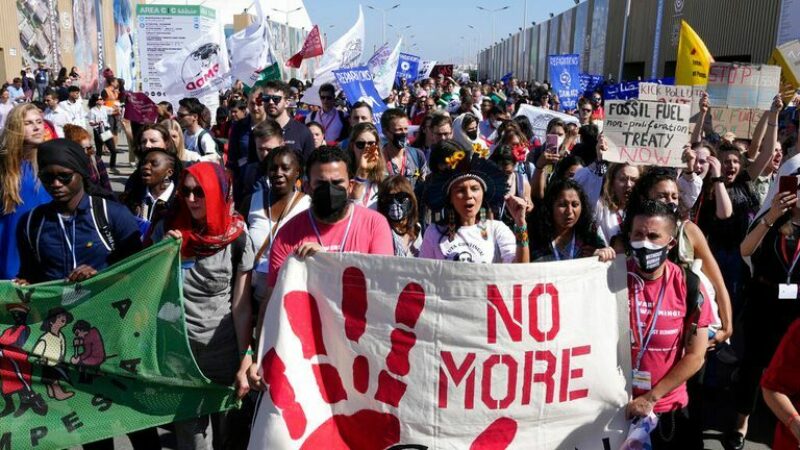 First drafted during the Sharm el-Sheikh climate negotiations in November 2022, the Peoples' Accord towards a New Social Contract is a call from a coalition of civil society movements came together to world leaders, international NGOs and citizens movements to unite and unlock progress on the escalating crises of climate, economics, biodiversity and inequality.
Despite thirty years of desperate warnings from scientists and civil society, we have so far failed to address the looming catastrophes of runaway climate change, rocketing social inequality, and democratic decay.

But it is not too late to unite to build a better world as our old one falls away.
All the possible futures that we face in this moment involve radical, structural change. Either we reshape the ways our societies function, or these crises will overwhelm our societies and economies, causing untold suffering.
We believe that the only way to deliver a fair and fast transition lies in new social contracts: covenants between citizens, their states and others such as businesses and nature.
Social contracts are different in each country and context. But essentially they comprise the web of relationships that bind together disparate citizens, communities, institutions and governments into a just society.
Ultimately, there can be no transition without public demand for change that seeks and receives consent for action, and holds institutions accountable for their ambitions and their mistakes.
There are existing concepts such as eco-swaraj, buen vivir, ubuntu and mechanism like citizen assemblies, ecological constitutions, just transition plans, climate charters, and others that seek to renew social contracts. We must learn from and build upon this wisdom to support a just transition to a regenerative future for all.
New social contracts built around environmental protection, social inclusion and democratic accountability are the only way that we can move far enough, and fast enough, to tackle the pressing issues that are already upon us. We need to work together, refreshing existing democratic processes, rejuvenating civic space and co-creating new mechanisms that rebuild trust, solidarity and power the transition.
Therefore, we the undersigned call upon world leaders, citizens movements, civil society and international institutions to work together to unleash the potential of revitalised social contracts fit for the 21st century.
Join us, and help us jointly define this agenda towards restoring the spirit of faith and hope within our collective movement for justice.