The empowering burden of the climate movement on young people
This Friday, activists worldwide will continue their strikes for justice, keeping the spark going without burning out.
By

Oban Lopez-Bassols, Salomé Stokes

Guest Author

·

03rd March, 2023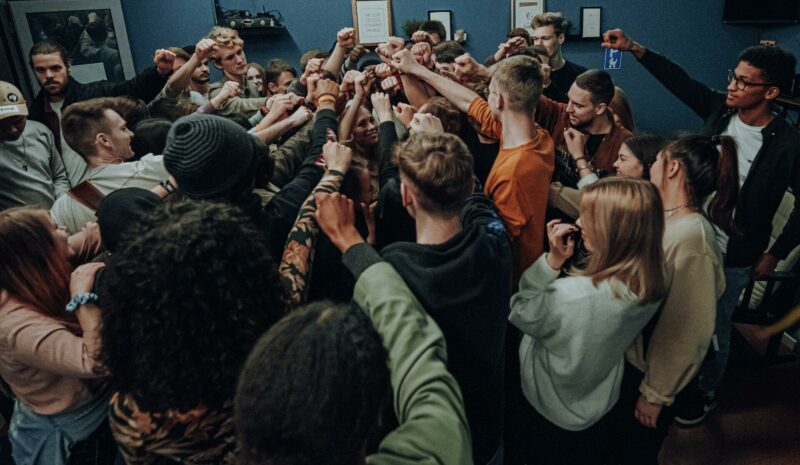 To mark the 2023 Youth Climate Strike, we invited two young climate activists to reflect on their experience of activism and protest. Here is their story.
We were told our generation would fix this broken planet, but we all knew waiting made it worse. So too young to vote, we did what we could to affect the world. As one of thousands, I helped form networks of motivated students, acquire permits, and spread the news of the Washington DC chapter of Fridays For Future. For everyone this felt new and exciting, orchestrating the rallies between March and September in 2019, uncertain how many - if any - students would join. At the peak, millions of students skipped school across the globe in what some call the biggest climate mobilisation in history, totally surpassing even our most optimistic estimates. Equipped with nothing but banners and hope, we tried.
COVID-19 couldn't kill the movement but it undoubtedly hid it. Rephrasing climate change as its own 'slow pandemic', we tried online and socially distanced protests, but nothing matched the visibility of thousands yelling at the United States Capitol. As months drew on and we had nothing but time, we reflected on our responsibility to be informed and act. However, as we harnessed endless access to this information, we ended up drowning in it all.

" We don't need the movement to be taken off our shoulders, but we need support... without backing, this change is happening too slowly."
First coined and then popularised by British Petroleum, the concept of personal carbon footprint managed to seep itself into our vulnerable generation. The allure of leaving dents in such a colossal issue was irresistible. By changing diets, purchases, and travels we could fight and it could matter. But little did we know how infinitely negligible these actions were, relative to what could be done by those that fed us this mindset. Even after we understood corporations were pushing the blame onto us, it was too late: we had internalised personal accountability. Now, our twenties, which we've been told is a time of self-discovery, are tinged far too early with the guilt of never doing enough.
In a study reported in the Lancet, 45% of people between 16 and 25 years say that their feelings about climate change have negatively affected their daily life and functioning. Without proper self care, burnout is inevitable. But how is that an option when the climate movement rests on our shoulders? Despite the empowerment that comes with jumpstarting the movement, many youth worry that if we were to halt our contributions, no one would assume control. If this burden is now hooked to us, it coexists with the stress of college and independence.
Online we reach out and coordinate pressure, while on the streets we demand immediate change. But, more happens than we see. A North Carolina study has uncovered that despite an overarching exclusion of the youth in political conversations, even 10 to 14 year olds are swaying those in power. By including climate education in school curriculums, parents' concerns on the issue increased by almost 23%. Today, thousands that have resisted change are folding to the pressure from home.
As Pierre-Andre de Chalendar, CEO of the French construction giant Saint-Gobain admitted: "I cannot go to a meeting of Saint-Gobain executives without hearing this question [...] when we go back home at night [we're asked]: 'Mom and Dad, what is your company doing for the planet?"
We don't need the movement to be taken off our shoulders, but we need support. This Friday, activists worldwide will continue their strikes for justice, keeping the spark going without burning out. We are getting older, getting the right to vote, and even better, the right to be elected into a position of political power. But without backing, this change is happening too slowly. "If nihilism leads to inaction, then we truly are screwed."

- Oban Lopez-Bassols and Salomé Stokes are Canadian youth climate activists