Kumi Naidoo & Mary Robinson in conversation on eco-social contracts
The two renowned activists and leaders sit down to introduce our new paper on building a green transition through the polycrisis
By

Kumi Naidoo & Mary Robinson

Guest Author

·

14th September, 2023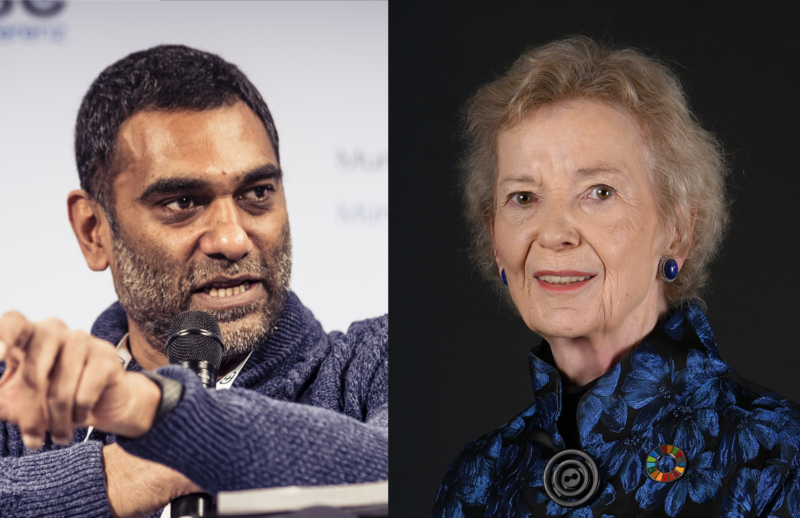 Kumi Naidoo is a human rights and climate justice activist, former International Executive Director of Greenpeace International and Secretary General of Amnesty International, and host of the Power People & Planet podcast. Mary Robinson is the former President of Ireland - the first woman to hold the office - and was the United Nations High Commissioner for Human Rights from 1997 to 2002. She now campaigns for action on climate change through her foundation and as the chair of The Elders.

Here they co-author the foreword to our new research report, "Eco-Social Contracts for the Polycrisis: Participatory mechanisms, Green Deals and a new architecture for just economic transformation."

Kumi Naidoo: People are getting increasingly anxious about the state of the world. They are feeling a great sense of exclusion, are getting angrier, and losing confidence with power. They are marching in ever larger numbers, they are mobilising in new ways, such as embracing the power of artivism as well as developing local solutions and are being proactive in the face of inaction by those with responsibility and power to lead. Governments are failing in their primary responsibility: keeping people safe. The climate crisis, the nature crisis, the inequality crisis – this is a crisis of confidence, a crisis of governance. People want change and want greater clarity about the relationship between power and people.
Mary Robinson: I know. The polycrisis is escalating and putting new strains on society, people, and all forms of governance. But I believe democracy is still our greatest hope. Governments and politics can step up to this moment. In my own country, Ireland, new forms of public participation have changed the political landscape of what is acceptable and what is possible. These new democratic tools – such as citizen assemblies – can give progressive governments the mandate to transform economies and societies.
Kumi: Following the 2008 global financial crisis and the COVID pandemic which exposed deep deficits in our economic and political systems, what we have seen is a response of "System Recovery, System Maintenance and System Protection. However, what we really need is System Innovation, System Redesign and System Transformation. However, such a large-scale change, while desperately needed cannot be imposed. People are losing or don't have trust in their leaders. People must be heard, they must be partners, owners and the beneficiaries of this transformation. There is a need for a reset, and a need for renegotiated social contracts – that clearly expresses people's priorities for change. There can be no effective and inclusive green new deal without a new social contract.
Mary: Can we agree to work together to give democracy new tools – and to invest our time to promote public participation in these new eco-social contracts –so they give the mandate to governments to do the right thing in this polycrisis? If we invest in democracy, we can turn the tide and not only come out the other side of this crisis but come out with societies and economies that are greener, fairer and with stronger democracies.
Kumi and Mary: This is what this paper is about. We commend it to all those who would lead us from Polycrisis.

- Kumi Naidoo & Mary Robinson