GEC Global Meeting 2021: Code Red for nature & people
Top solutions for scaling a green and fair COVID-19 recovery: 29 Nov - 3 Dec 2021
By

GEC

·

14th October, 2021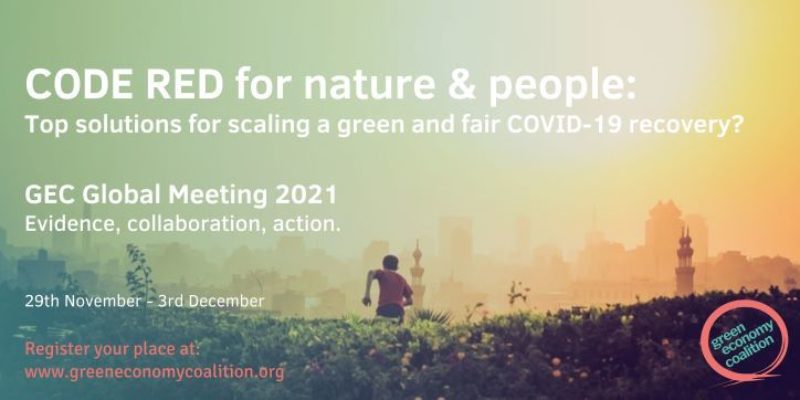 The recovery from COVID-19 has only just begun. It offers a unique opportunity to fast-track economic policy that could protect nature and people. But this will only happen if we work together and hold decision makers to account.
Join us online during the week of 29th November - 2nd December for the GEC Global Meeting 2021. A collaborative space in which to reconnect with diverse global networks, share solutions, build allies and drive action. The moment is here to accelerate the transition - we must take it.

Why?
Through the pain and suffering of COVID-19, we have seen glimpses of a better future. A world in which governments can be agile, innovative and science-led; where businesses big and small can transform themselves at short notice; where communities can be resilient, proactive and collaborative.
We all – citizens, government, business, workers – shared the same hope. This could be a turning point. From the ashes of this crisis, a fairer and greener economic system might emerge.

Two years on from the outbreak of COVID-19, some countries and institutions have taken bold steps to prioritise a just and nature-based recovery. But, at large, corporate and government decision makers are missing too many opportunities to make structural changes.


What and when?
The event will take place on Zoom over 5 days from 29th November - 3rd December - with core sessions for 2 hours from 12-2pm (GMT), surrounded by side-sessions and fringe events by members and partners suited to different themes and timezones. Download the interactive agenda here.

Join us for five different themed days, with events focused around the green economy transition:

Day 1: Code Red for People & Nature
Top ten priority options to transform a collapsing system. (Nov 29, 12:00 – 14:00 GMT)
An introductory session to focus on diagnosing the state of play, understanding how the COVID-19 recovery is playing out around the world, and hearing what our members are seeing on the ground.
Day 2: Inequality Day
How might a new social contract help drive the green transition? (Nov 30, 12:00 – 14:00 GMT)
This core session will focus on small enterprise, inclusion, and tackling social and economic inequality, with presentations from our Dialogue Partners exploring SMEs, equity and development.
Day 3: Nature Day
How can the green transition restore nature in time? (Dec 1, 12:00 – 14:00 GMT)
This core session focuses on nature-positive policies that restore ecosystems and biodiversity while protecting livelihoods.
Day 4: The Green Recovery On Trial
Is the recovery agenda up to the challenges facing humanity? (December 2, 12:00 – 14:00 GMT)
A media debate, empowering a jury of young green activists to question a panel of expert witnesses as to how the green recovery is shaping up. Attendees will be able to suggest questions and vote on the results.
Day 5: Coalition Day
Strategy, shared interventions, and the future of the GEC (December 3, 12:00 – 14:00 GMT)
Strategic discussion sessions will be reserved for members of the Coalition only, but there will be networking and introductory breakout rooms for non-member organisations and individuals interested in the work of the GEC.
During the week we will co-create a "Green COVID Recovery Declaration", calling on governments for specific actions that need to happen immediately. A zero draft will be available to participants in advance and it will evolve over the week, extracting content from each session; the final Call to Action will then be open for signatures from organisations and individuals. As a coalition, the declaration will guide our campaign to collectively influence governments and to build a wider civil society movement advocating for a global green transition at Stockholm+50 in 2022.