​Empowering agents for change
Continuous support pays out for good governance
By

Guest Author

·

12th April, 2019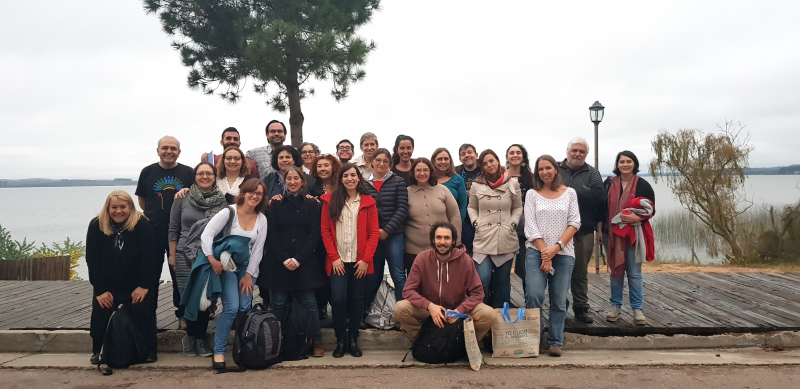 Title: Interinstitutional Working Group on Inclusive Green Economy

Country: Uruguay
Operated by: Ministry of Housing, Land Planning and Environment (MVOTMA)
The Interministerial Working Group on Inclusive Green Economy has been set-up and supported through the global project "Green Economy Transformation – Synergies between low-emission paths and the Sustainable Development Goals (SDGs)" (GET) in cooperation with the UN Partnership for Action on Green Economy (PAGE). The project is implemented jointly by UN Environment and Deutsche Gesellschaft für Internationale Zusammenarbeit (GIZ) GmbH on behalf of the Federal Ministry of the Environment, Nature Conservation and Nuclear Safety (BMU).

Over the last decade, Uruguay has demonstrated strong economic growth as well as continuous improvements in social development. Yet, the country faces the challenge of further developing its industrial and services sectors to create new and decent jobs while also protecting the environment. Inclusive Green Economy (IGE) represents an integrated approach towards achieving the 2030 Agenda for Sustainable Development in its full complexity. However, mainstreaming new approaches and establishing the necessary multisector collaboration requires continuous learning and practice.
Since 2015, GIZ has supported Uruguay in strengthening individual and institutional capacity for an Inclusive Green Economy. Through diverse capacity-building measures, the project brought together key actors from various government institutions, such as the Ministry of Industry and Energy and Mines (MIEM), Ministry of Tourism (MINTUR), the Ministry of Labour and Social Security (MTSS), the State Railways Administration (AFE), and the Ministry of Housing, Territorial Planning and Environment (MVOTMA). To spark real change, these workshops not only delivered technical knowledge but also focused on improving the skill sets of participants in project- and change management as well as stakeholder engagement. This empowered them as change agents for mainstreaming IGE in their respective organisations.
Over time, the workshops evolved into the "Interinstitutional Working Group on a Green and Inclusive Economy". The Group served as a platform for individual 'change agents' to exchange their experiences and to take joint initiative The participants identified projects, which were in their common area of influence and of strategic relevance to the involved ministries. Projects were also selected according to how they advance the broader agenda of green economy transformation in Uruguay. For example, participants from the Ministry of Labour and Social Security (MTSS) coordinated a project on "Reuse and integral management of tires out of use" while employees of the Ministry of Industry and Energy and Mines (MIEM) led work on "Improvement of Industrial Competitiveness and Environmental and Social Performance" in the St. Lucia Basin. The Ministry of Tourism worked on a green tourism label "Sello Turistico Verde" which was later on included in Uruguay's contributions (NDCs) to the Paris Agreement.
The Interinstitutional Working Group also pursued a joint effort on Green and Inclusive Public Management. Under this work stream, all participants promoted specific projects related to environmental management, such as energy efficiency, more efficient waste management, recycling, etc., in their organisations. These different activities demonstrated some first results, which then inspired other public agencies. Among others, the Ministry of Energy implemented composting at its premises in Montevideo, which was replicated in other institutions.
Outcome:
Overall, the work of the group contributes to mainstreaming the IGE agenda. It fostered open discussions, helped to develop and implement concrete and coordinated actions and led to a more efficient and effective management of national agendas and international commitments such as the Paris Agreement and the SDGs, in particular SDG 17 "Partnerships for the Goals".
The Interministerial Working Group has been instrumental in turning Uruguay into a PAGE country: The Group jointly applied to the PAGE initiative and in total eleven institutions supported the application. In 2017, Uruguay became a PAGE country, allowing it to accelerate its transformation further. The Working Group now receives complementary support from both GIZ and PAGE.
---
Further links: GET Project Flyer, GET Project Description, PAGE Country Information - Uruguay
Photo by GIZ/ Deiner Farias