Fast, Fair & Green
How can we create an economic transition to achieve the SDGs?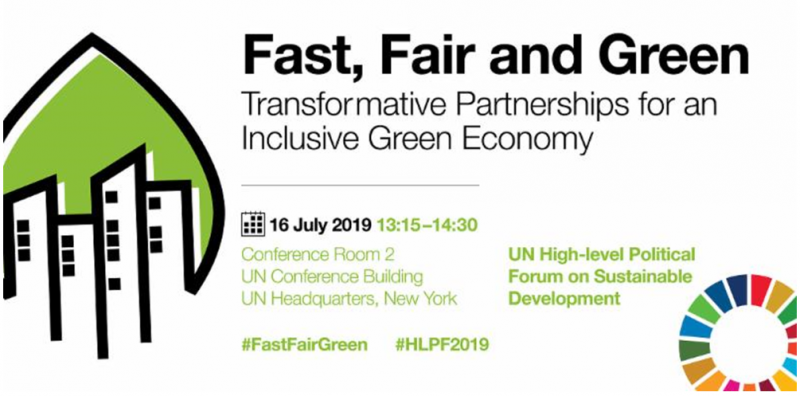 The big questions
The science has confirmed the world is facing an environmental emergency. As it stands, very few countries are on track to meet either their national climate targets or reach the Sustainable Development Goals. It's now clear we need a radically different approach to governing our economies. Join us on July 16th 2019 to hear how green economy solutions are transforming the ways our economies function - and your chance to ask global leaders how they can push for more.
If you're not able to join in person, we'll be live-tweeting the event - just follow the #FastFairGreen hashtag on Twitter.
Featuring
Hon. Ola Elvestuen, President of the UN Environment Assembly (UNEA) and Minister of Climate and Environment, Norway
Hon. Karmenu Vella, EC Commissioner for Environment, Maritime Affairs & Fisheries
Hon. Rita Schwarzelühr-Sutter, Parliamentary State Secretary, Ministry for the Environment, Nature Conservation and Nuclear Safety, Germany
Inger Andersen, Executive Director, UN Environment
Achim Steiner, Administrator, United Nations Development Programme (tbc)
Antoine Sire, Director, Department of Company Engagement, BNP Paribas
---
Business-as-usual isn't working. It is driving climate change, inequality, biodiversity collapse, instability and displacement, pollution and public health crises, and the depletion of natural capital on which lives depend. People are calling for change.
The inclusive green economy offers solutions. It can create tens of millions of decent jobs including for women and youth, and can contribute to food security, access to energy, clean air and water, the protection of wildlife, and the restoration of ecosystems.
Over the last decade, governments, businesses, and financial institutions have been pioneering new policies, practices, and products that aim to drive the transition to an inclusive green economy. But is this transition adequately fast, fair and green?
On 16 July (1:15 PM - 2:30 PM EDT), a group of institutions leading the transition are inviting global leaders for a panel discussion to explore the question, "How can we create an economic transition fast, fair, and green enough to achieve the Sustainable Development Goals (SDGs) and Nationally Determined Contributions (NDCs) to the Paris Climate Agreement?"
This event will also mark the launch of the Five Principles of Green Economy, which offer a valuable compass in the transition to sustainability, and the Green Industry Platform and the Green Finance Platform, which will equip businesses and financial institutions with the guidance, data, and tools they need to equitably green their operations.
About Fast, Fair and Green: a partnership initiative involving UN Environment, the Deutsche Gesellschaft für Internationale Zusammenarbeit (GIZ), the Global Green Growth Institute (GGGI), the Green Economy Coalition (GEC), the Green Growth Knowledge Partnership (GGKP), the International Labour Organization (ILO), the Organisation for Economic Co-operation and Development (OECD), Poverty-Environment Action for SDGs (PEA), the United Nations Development Programme (UNDP), the United Nations Industrial Development Organization (UNIDO), and the United Nations Partnership for Action on Green Economy (UN-PAGE).