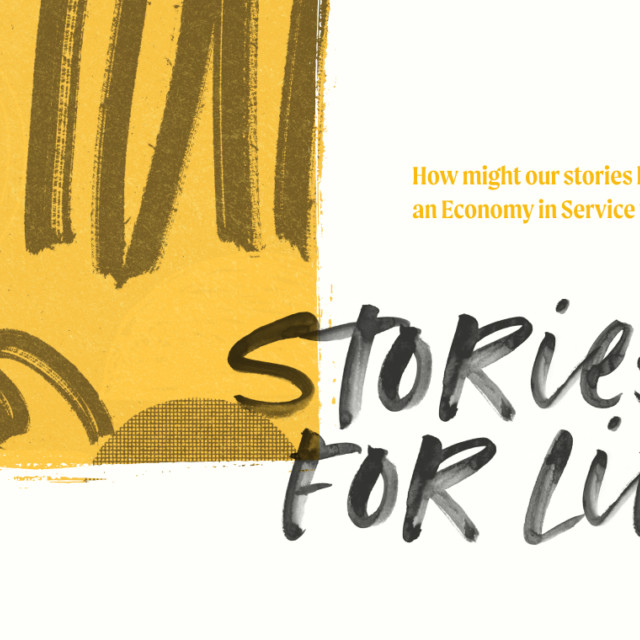 Stories For Life
Stories for Life is a proof-of-concept project, co-developed together with the Wellbeing Alliance, Friday Future Love, and the SpaceShip Earth, that seeks to bring together creative professionals from the worlds of media, advertising, influencing and PR to design new language, narratives and messaging to inspire ambitious action on urgent global challenges.
The climate is crashing. Pandemics are spreading. Democracy is degrading. Inequality is rising. Nature is vanishing.
These crises are not isolated problems, but all symptoms of the same underlying issue - our fundamentally broken economy model. An economy designed with a way of understanding the world that we now know to be hugely destructive to life. An economy which exploits the natural world and the most marginalised to the point of collapse, and wrecks all our hopes of leading meaningful, fulfilling lives.
It's time for a new design.
Change the narrative - change the world
The converging crises we face are symptoms of a shared root cause: economic designs based on an outdated and harmful narrative that we are separate from nature and each other.
If we are going to salvage what nature we have left and avoid further societal breakdown, we need to radically transform our economy, which means changing that narrative.
Stories weave narratives that shape the way we think, feel and act. Stories about our economy – what it is, how it works, what matters in it – have helped to weave and maintain a harmful narrative of separation in our culture.
This narrative means we choose unfit policies, which reinforce our stories and the harmful narrative, validating the economic designs that are destroying the conditions that create and sustain life.
We need a better narrative
We need a narrative that reflects the latest and most ancient understanding about how we are connected with the natural world and with each other. That human health and planetary health are intimately entangled. That we are a part of nature, so for us to survive and thrive, nature must survive and thrive.
We already have this narrative – the narrative of interconnection, of 'interbeing'. Now we need our stories to help bring it into our culture. We need Stories For Life, that will help us design the new green economy. This work explores how we can bring these stories to life.