Turning waste plastic into sustainable prosperity
By

Ben Martin

GEC

·

19th July, 2017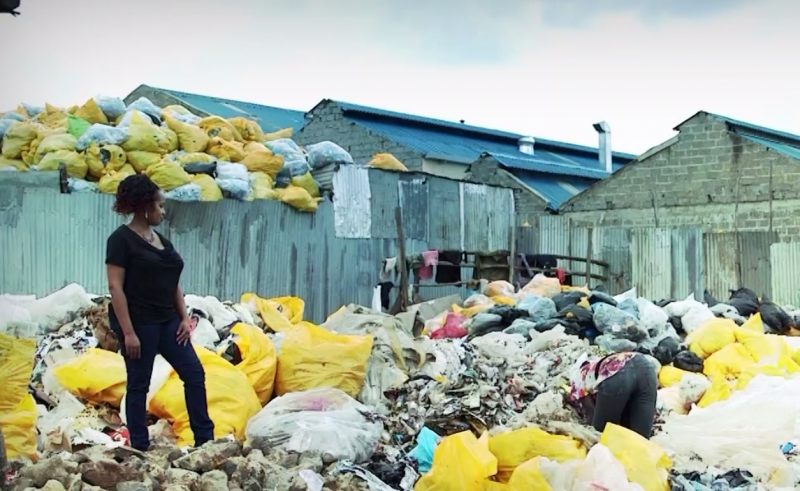 In the Kenyan city of Nairobi, one woman is tackling deforestation, boosting the local economy and keeping the streets clean – all through the power of garbage

Like many cities in the global south, Nairobi has a serious waste problem. The city produces over 2000 tonnes of solid waste every day, but inadequate laws and lack of resources mean that only around half of this is collected. The rest ends up in the streets, where it blocks drains, encourages vermin, and spreads disease. 
But in the city's Ruaraka district, entrepreneur Lorna Rutto has found a way to turn this refuse into a valuable commodity. EcoPost, the company she founded in 2009, harvests discarded plastic from the streets and recycles it into tough, lightweight building materials.
What a load of old rubbish
"Plastic is littering the streets, clogging the sewers, encroaching into our homes," Ms. Rutto says. "But waste isn't waste until it's wasted. It's actually a resource." And with an annual recycling target of 1 million kilos, she is certainly making the most of Nairobi's abundance of garbage – and building a thriving business in the process. EcoPost currently cannot keep up with demand for its plastic planks and posts, and has already expanded its operations onto a second site.
It's easy to see why EcoPost's plastic products are so popular: immune to termites and rot, they last a lot longer than traditional wooden alternatives, helping keep maintenance costs low. But saving her customers money is not EcoPost's only benefit, as Ms Rutto explains. "There's a great need for building materials like timber, that is driving our forests into serious decline." By substituting wooden planks and posts with plastic ones, Ecopost is also helping to tackle Kenya's serious deforestation problem.
Threatened by urban encroachment, illegal logging and the insatiable demand for timber, Kenya's forests are disappearing at a rate of 5,000 hectares every year. Not only does this destroy biodiversity, erode the soil and increase carbon emissions, it also threatens ordinary Kenyans. As much as 10% of the country's population rely on forest resources to make a living, and even city dwellers depend on the forests to store and feed the rivers with rainwater for drinking and hydroelectric power.
Building the circular economy
By turning trash into new pipes, posts and planks, EcoPost is building a sustainable business that addresses deforestation and waste issues simultaneously – while also providing skilled green jobs. EcoPost employs some 250 people in its recycling plants, as well as over 2000 casual waste collectors. Women make up over half the workforce, and full-time staff earn a salary well above the national average. Recognising the tough working conditions of the waste collectors, EcoPost registered all employees for health and hospital benefits, a benefit that very few in Kenya can afford.
Ms Rutto sees a bright future for Ecopost. "In five years, we'd like to be an integrated waste management company," she explains. "We want to employ some 50,000 people in this country, and scale up the business into other parts of Africa." Delivering social, environmental, and economic benefits, the EcoPost approach is a powerful example of the circular economy in action. 
Impact
People

+2000 jobs, cleaner streets, less disease

Planet

More recycling, reduced deforestation

Prosperity

Circular economy benefiting local communities