The IEA's Net Zero roadmap: a narrow path to 1.5 degrees
Our statement on the outcomes of the International Climate and Energy Summit, Madrid, October 2nd
By

Sofía Martínez

GEC

·

04th October, 2023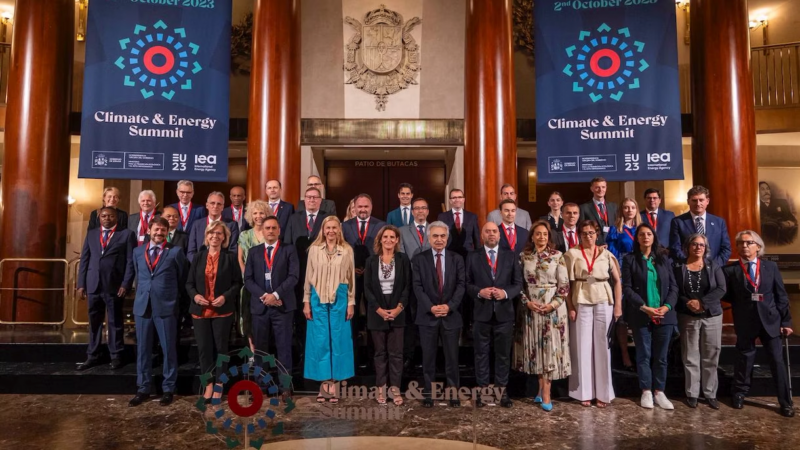 Just last week, on September 26th, the International Energy Agency (IEA) published the latest update of its landmark Net Zero Roadmap. It shows that although the path to limiting global warming to 1.5 °C has narrowed, renewable energy and energy efficiency are keeping it open. This is big and positive news. The IEA is clearly telling us that we already have the technology to limit the effects of climate change. But we need more ambition and more cooperation to move from pledges to implementation. The roadmap also provides a pathway to bridge the energy access gap, including for clean cooking, and so provide a sustainable path to prosperity for millions of the planet's poorest.
Last Friday I represented the Green Economy Coalition in a roundtable discussion with civil society groups. The outcomes of the discussion were summarized and presented at the International Climate and Energy Summit, held in Madrid on 2 October. The Summit, co-chaired by H.E. Teresa Ribera, Vice-President of the Government of Spain, and Dr. Fatih Birol, Executive Director of the IEA, aims to build momentum ahead of COP28 and around a grand coalition to keep 1.5 ºC within reach. They point out that three key actions provide 80% of the emissions reductions needed, and they are a benchmark for the success of COP28: tripling the installed capacity of renewables, doubling the rate of energy efficiency improvement, and reducing methane emissions from fossil fuel operations by 75% by 2030. You can read the co-chairs summary here.
And… Action!
The science is clear. Accelerated and wider deployment of renewables is a must for socio-economic development and for the fight against climate change and biodiversity loss. The phasing out of fossil fuels and the transition towards renewables has to be coupled with resource and energy efficiency and circular economy principles. But most importantly it must be fair and just. It must include everyone, and it must be backed by societies. And it must prioritize universal access to clean, sustainable and affordable energy.
The Co-chairs summary already stressed that "The transition must be collaborative, inclusive and people-centred. Ensuring the scale-up of decarbonised energy investment in emerging market and developing economies must be a central focus of global collaboration and implies reform of our multilateral financial institutions." This goes beyond inclusivity or just transition – if societies are not consulted, informed and empowered, misinformation and opposition will arise. Societies and small consumers cannot be seen as passive actors; they must be in the driving seat of the transformation. Local communities' demands must be listened to, together with their local knowledge.
Decent living conditions or access to basic services, fair wages, human rights, labour, employment, or industrial policies need to be careful design and address all these issues. Marginalized voices, from women to youth or indigenous people, must be not just listened to, but included in the policies and plans. And capital and investments must be green and socially just. The eco-social contract provides a framework to support and enable the fair and green transition. It is the necessary framework to create and support fair and green industrialization with local clean energy value chains.
So… we are!
The Green Economy Coalition is mobilising all across our network to enhance the fair and green transition – what must eco-social contracts be like to deliver it. Which actors can play which roles? Businesses, trade union, NGOs, SMEs, citizens – and, of course, politicians and policy makers.
We're experimenting with new mechanisms for making change happen, and seeing which approaches – citizens assemblies, participatory budgeting, strategic litigation and more - can bring society together, and keep it together, as we build the green economy around the world.
- Sofía Martínez, GEC