Sustainable urban farming in Cuba
By

Ben Martin

GEC

·

03rd October, 2017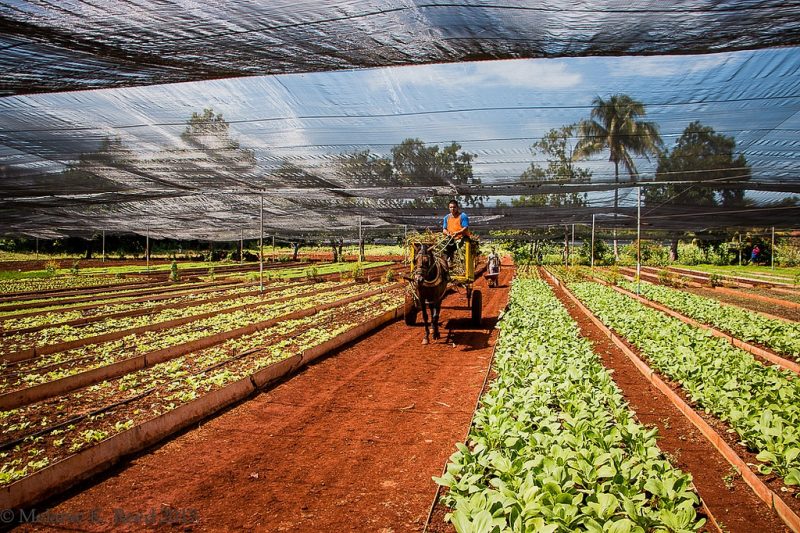 Twenty-five years ago, Cuba teetered on the brink of famine. But a homegrown farming revolution has rebuilt the country's food supply from the bottom up: organic, affordable, and resilient

On the flat concrete roof of an apartment building in the El Cerro neighbourhood of Havana, an urban farmer is making his rounds. This small space – only six metres by ten – supports an entire permaculture ecology: carrots, potatoes, beans, chickens, and over a hundred rabbits, all for sale in local markets and restaurants. And it's just one of thousands of small organic urban farms across the country, all helping to feed Cuba's growing population with healthy, affordable, and sustainably-produced food.
Guerilla gardeners
Cuba's organopónicos system emerged by necessity in the early nineties. The collapse of the USSR, and an on-going US trade embargo, left the island nation cut off from the imports of food, fuel and fertiliser that had powered its food supply. Between 1989 and 1993, domestic agricultural production fell by nearly a half.
As food shortages became widespread, ordinary Cubans began to turn their gardens, parks – and rooftops – into miniature farms to supplement meagre rations. Without access to chemical insecticides or fertiliser, the new urban farmers turned to permaculture techniques such as worm composting and bio-pesticides, making the produce organic by default.
Recognising the potential, the government provided state support in the form of training schemes, composting facilities, veterinary clinics and subsidised agricultural supplies; laws were passed to make it easy to set up urban farms in empty buildings and abandoned lots. Today, Havana alone boasts more than 8000 urban farms, covering 35,000 hectares in what Bill McKibben has described as "the world's largest working model of a semi-sustainable agriculture". Other countries are starting to follow suit - Paris now has more than 100 hectares of roof gardens, for example. 
Havana good time
Emilio Andres is one of the more than 50,000 smallholders working in the organoponicos system. "We produce all different kinds of vegetables," he says. "We sell to the people, the school, the hospital, also to the restaurant and the hotel... it's grown in the city, it's fresh food for the people, it's healthy food, and it provides jobs for the people too."
Since their produce is seasonal and locally-sourced, Cuba's urban farms use far less energy and emit a fraction of the carbon of high-intensity industrial farming. And it's healthy too: since the system was introduced, deaths from cardiovascular disease, type 2 diabetes and strokes have all decreased.
The system is not perfect. "It has been a success in terms of meeting some of the food security needs," says Dr Stephen Wilkinson, assistant director of the International Institute for the Study of Cuba. "But the island still imports a great deal of food." Rationing remains in place, and some question whether the system will survive as Cuba's economy opens up to trade and imports – especially cheap food from the US.
But with food and energy security already pressing concerns for governments around the world, many see Cuba's organopónicos as a model of resilient, efficient, and affordable agriculture. Emilio Andres certainly agrees. "When I see all of these healthy crops, without too many pests, grown without any chemicals, it's amazing for me."
Impact
People

25 years of food security in oil-scarce environment

Planet

Permaculture farming saves energy, water & carbon

Prosperity

Jobs, training, and food cooperatives