GEC launches new website to support smaller businesses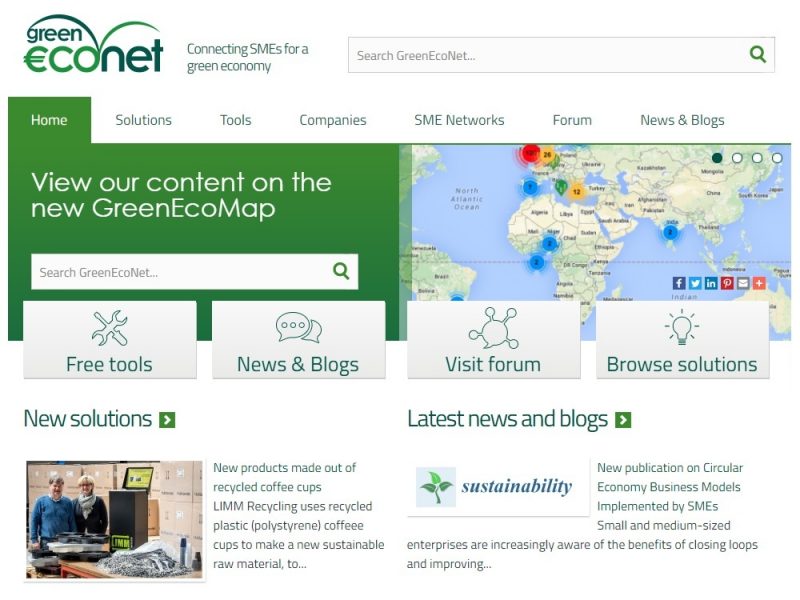 More than 99% of all European businesses are small and medium sized enterprises (SMEs)[i]; they are the  backbone of our economies and our communities.  They are also the drivers of innovation - registering more patents than all the big businesses combined[ii]. Yet to date, smaller businesses have lacked the capacity and resources to tackle environmental challenges.
Today, a new website launches to help SMEs become more environmentally friendly while also saving money and becoming more competitive: www.greeneconet.eu. 
Launched at the GreenEcoNet [1] Annual Conference event in Brussels (25th June), at the Centre for European Policy Studies, it is the first pan-European website aiming to connect SMEs and support the trend of small business innovation in tackling the big sustainability challenges.
Funded by the European Commission, the GreenEcoNet website helps small business operations connect to each other, to solutions, to finance, tools and to policy makers.  It showcases real life case studies and solutions from SMEs across Europe that have successfully gone 'green'; it profiles a library of tools and guidance; and supports discussion forums and news updates tailored for smaller businesses.

"Small businesses are the unsung heroes of our economies.  They pay their taxes, create local wealth and jobs and their innovation is key to unlocking the transition to greener and more resilient, more competitive European economies." says Oliver Greenfield, Convenor, Green Economy Coalition.  
"This website will help them learn from each other, become more resource efficient, able to compete in the emerging green markets and save money.   It will also help them have a conversation with European policy makers, so that they can be better supported."

"As a small family-run hairdressing business based in Scotland, we have been radical in our commitment to sustainability and our approach to green innovation has led to Elan becoming the UK's most eco-friendly and sustainable salon. The GreenEcoNet forum is exactly what's needed to connect with likeminded businesses where we can share our expertise and experiences, learn from the initiatives taken by others and exchange ideas and support".
Elan Hair Design, Inverurie, Scotland

The website is part of a wider programme of events, workshops and networking opportunities coordinated by the GreenEcoNet consortium aimed at connecting SMEs.
The GreenEcoNet project consortium plans to roll out the website on a global scale in the coming years in order to support SMEs worldwide to exchange good practice and create their own profiles to promote their goods and services.
---
[1] The GreenEcoNet consortium consists of six leading research organisations across Europe including the Green Economy Coalition, EcoLogic, Stockholm Environment Institute, Centre for European Policy Studies, the Joint Implementation Network, and the University of Piraeus. GreenEcoNet has been funded by the European Commission as part of the FP7 programme.
(i) European Commission, http://ec.europa.eu/enterprise/policies/sme/files/studies/executive-summ...
(ii) Stephen Pegge, Lloyds TSB Director of SME markets, Guardian Sustainability Network (September 2012) http://www.theguardian.com/small-business-network/2012/sep/26/panel-talk...