Obituary: Hazel Henderson, 1933-2022
Lifelong futurist, author, environmental thought leader and friend of the Coalition "goes virtual" at age 89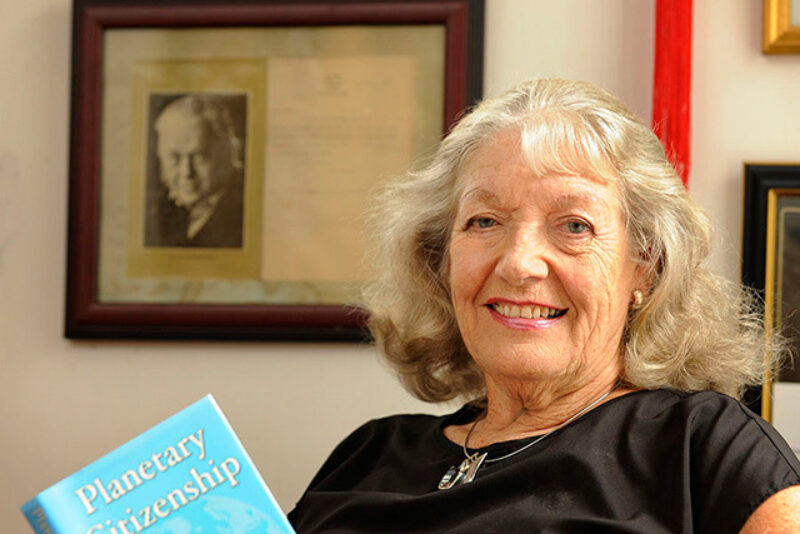 " Hazel was a force of nature. At the GEC, we loved her, her energy, wisdom, courage, always connecting. May her virtual impact continue to inspire as we surf in her magnificent wake."
Hazel Henderson (1933-2022), D.Sc. Hon., FRSA, went virtual (her own words) on May 21, 2022. Author of nine books and hundreds of articles, with multiple Honorary Dr. of Science degrees, Henderson is best known as a syndicated worldwide columnist and lifelong futurist who 40 years ago forecasted the need for the current transition from the fossil fuel era to the 21st century green economy. Henderson, born in Britain, was a naturalized US citizen who shared the 1996 Global Citizen Award with Nobelist A. Perez Esquivel of Argentina. She was remarkably proud that in the 1970's the Public Relations Society of America called her "the most dangerous woman in America."
Henderson's early prolific writing predicted the overhauling of conventional economic theory to take account of pollution, resource depletion and social costs ignored by company balance sheets and GDP, as described in her ground-breaking The Politics of the Solar Age (1981). As a result, Henderson was ostracized by the economics community as she famously reiterated "economics is a form of brain damage".
She co-founded Citizens for Clean Air in New York City in 1964, leading to the Air Pollution Index for weather broadcasts. Henderson was named Citizen of the Year by the New York County Medical Society in 1967 for her environmental leadership and was recognized by President Johnson on the signing of the Clean Air Act.
Her writings laid out the theoretical underpinnings for societies based on renewable resources, energy, materials efficiency, and social equity - beyond GDP. Her book, Ethical Markets: Growing the Green Economy (2007) won the Axiom Best Business Book Bronze Award in 2008.
In 2004, Henderson founded Ethical Markets Media, LLC, (EthicalMarkets.com), producing the accessible and acclaimed TV series covering corporate social responsibility, ignored at the time by mainstream financial media. Ethical Markets Media will continue to operate from the Hazel Henderson and Alan F. Kay Library, which houses their 6000-volume collection and the Henderson and Kay archives.
Henderson survived her partner Alan F. Kay (1925-2016), Ph.D., internet pioneer and social entrepreneur. She is survived by her daughter Ali Cassidy, her son-in-law, Gary Cassidy and her grandson Brendan A. Cassidy.