Nexos+1: Conectando negocios para la sostenibilidad
By

Guest Author

·

24th October, 2017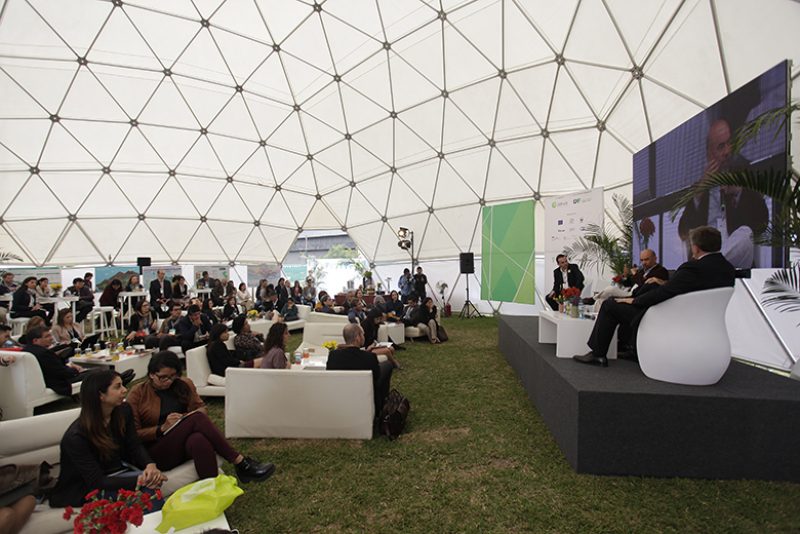 An English translation of this article follows the main text.
Las empresas hoy más que nunca están llamadas a innovar ante un consumidor que busca productos que ayuden a resolver problemas ambientales y sociales, y un clima cambiante que requiere nuestra urgente atención. Alinear los objetivos de las empresas a los Objetivos de Desarrollo Sostenible, el Acuerdo de París y los requerimientos OCDE, resulta estratégico. Es por esto que en el 2015 creamos nexos+1: Innovación para la Sostenibilidad, el espacio anual que congrega a actores clave para impulsar la innovación empresarial frente a estos objetivos país.
Este 24 y 25 de octubre, en nexos+1, empresarios líderes, emprendedores, gobiernos, cooperación internacional y la banca multilateral se juntarán en Lima para crear sinergias y construir soluciones innovadoras a retos globales relacionados a la sostenibilidad y el cambio climático.
La experiencia nexos+1 lleva a sus participantes por un proceso de inspiración, a través de historias de éxito contadas por los mismos protagonistas. Luego a través de entrevistas y debate, al estilo de un programa de televisión, expertos explican cómo se hacen realidad estos casos de éxito. Finalmente, se invita al público a espacios de interacción, para conocerse, encontrar intereses comunes y empezar a construir nexos que potencien sus iniciativas.
En este espacio de inspiración, transformación y construcción de nexos para la acción, actores del cambio como Alex Pryor, fundador de la marca Guayaquí, contará cómo funciona su modelo disruptivo que rompe el mercado americano conservando y regenerando bosques tropicales, María Emilia Correa, co-fundadora de Sistema B, contará cómo las empresas B están redefiniendo el sentido del éxito empresarial, usando la fuerza del mercado para dar solución a problemas sociales y ambientales, Lucas Campodónico director general de B-ECO que agrupa a La Bioguía, Greenbondi, Greca y Ecomanía, presentará modelos de tecnología virtual o e-commerce sostenible y más de veinte líderes empresariales responsables contarán sus experiencias y evidencia de que existe una nueva forma de hacer empresa.
En nexos+1 los participantes podrán conocer sobre el nuevo enfoque de la economía, los modelos de negocio del futuro, regulaciones, tendencias, las nuevas tecnologías que están cambiando el mundo y las oportunidades que brindan la biodiversidad y la economía circular para las empresas. Además podrán interactuar directamente con los expertos para resolver consultas y construir nexos.
Este año se llevarán a cabo dos inauguraciones importantes durante el evento, Stuart Worsley, Director del Green Economy Coalition (GEC), Reino Unido, celebrará el lanzamiento de la plataforma GEC Perú que impulsará el desarrollo de la economía verde en el Perú, y se presentará el directorio de emprendimientos sostenibles, Marcas que Marcan, de Perú 2021 y Kunan. También se presentarán los ganadores del premio Innovadores por la Sostenibilidad/Actúa Hoy, de la Universidad Científica del Sur.
Durante ambos días los participantes podrán conocer, interactuar y desarrollar nuevos vínculos con la sostenibilidad en los espacios paralelos como el Mercado de Ideas, espacio donde se muestran productos y servicios sostenibles; el Megáfono+1, espacio para que cualquiera pueda exponer a otros sus proyectos o iniciativas sostenibles; Networking con propósito, espacio para que los participantes puedan gestionar reuniones con personas de su interés; y la Calculadora de Huella, plataformas para que los participantes puedan conocer su impacto en el clima y cómo reducirlo.
nexos+1 es una excelente oportunidad para conectar con personas claves, generar alianzas y hacer realidad proyectos y soluciones enfocadas en la sostenibilidad. Si crees que el enfoque de sostenibilidad es la solución para un mejor futuro, este es el espacio para ti. Súmate a la experiencia nexos+1: www.nexosmasuno.pe
---
Consumers today more than ever are looking for products that help solve environmental and social problems, and companies know that they must innovate to adapt to a changing climate that requires our urgent attention. Recognising the strategic necessity of aligning corporate objectives with the Sustainable Development Goals, the Paris Agreement and OECD requirements, the Nexos+1: Innovation for Sustainability event brings together key players to drive business innovation for these national goals.
On October 24 and 25, in nexos + 1, leading entrepreneurs, entrepreneurs, governments, international organisations and multilateral banks will gather in Lima to create synergies and build innovative solutions to global challenges related to sustainability and climate change. The nexos + 1 experience leads its participants through a process of inspiration, through stories of success told by the protagonists who made them happen. Then through interviews and debate, in the style of a television program, experts explain how these success stories become reality. Finally, the public is invited to spaces of interaction, to get to know each other, to find common interests and to start building bridges to strengthen their initiatives.
Alex Pryor, founder of the Guayaquí brand, will explain how his disruptive business model was able to break in to the North American market by conserving and regenerating tropical forests. 
María Emilia Correa, co-founder of System B, will tell how "B-Corps" are redefining the meaning of business success, using market forces to solve social and environmental problems. 
Lucas Campodónico, the general manager of B-ECO grouping La Bioguía, Greenbondi, Greca and Ecomanía, will present virtual technology models for sustainable e-commerce.
And more than twenty responsible business leaders will tell their experiences and evidence that there is a new way of doing business. 
Participants will be able to learn about new approaches to the economy, the business models of the future, as well as the new regulations, trends, and technologies that are already changing the world. They can also interact directly with experts to ask questions and build contacts.
This year, two major inaugurations will be held during the event, Stuart Worsley, Director of the Green Economy Coalition (GEC), UK, will celebrate the launch of the GEC Peru platform to boost green economic development in Peru.
During both days the participants will be able to understand, interact and develop new links with sustainability in parallel spaces such as the Ideas Market, a space where sustainable products and services are shown; Megaphone + 1, a space for anyone to show others their sustainable projects or initiatives; Networking with Purpose, a space for participants to manage meetings with people of interest; and the Footprint Calculator, platforms for participants to understand their impact on the climate and how to reduce it.
nexos + 1 is an excellent opportunity to connect with key people, generate alliances and realize projects and solutions focused on sustainability. If you believe that the sustainability approach is the solution for a better future, this is the space for you. Join the experience links + 1: 
---
This article first appeared on stakeholders.com.pe

Filed In
Theme
Associated Hubs