Community uplift through solar power
By

Guest Author

·

14th February, 2019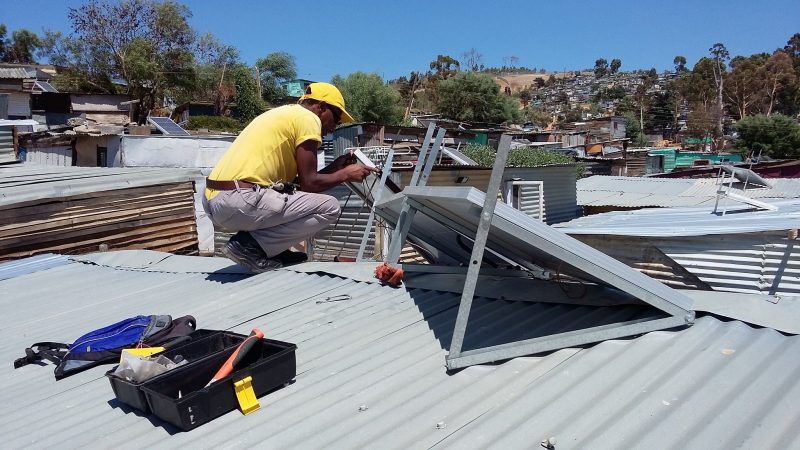 Built on initial funding from the Bill and Melinda Gates Foundation, the iShack project improves living conditions through pay-for-use solar power units in shantytowns. It was up scaled with additional finance of 17 million rand from South Africa's Green Fund. On behalf of the German International Climate Initiative (IKI), the Deutsche Gesellschaft für Internationale Zusammenarbeit (GIZ) GmbH supported the South Africa's Department of Environmental Affairs (DEA) in evaluating and developing the Green Fund.

Title: iShack
Country: South Africa
Operated by: Sustainability Institute Innovation Lab
Enkanini is an informal settlement of about 6,000 people on the outskirts of Stellenbosch, in South Africa's Western Cape. This community is typical of many similar settlements around South Africa: hundreds of shacks are built in close proximity, with little or no access to clean and safe forms of energy, water or sanitation. Here, as elsewhere in the global south, authorities are struggling to cope with the challenge of providing basic services to far more people than they have the resources to cater for.
iShack South Africa is a social enterprise that is helping the Enkanini community to gain access to electricity, green jobs, and skills training. The project uses solar electricity to demonstrate how 'green' technologies can be used appropriately to incrementally upgrade informal settlements and slums and at the same time build local enterprising capacity and resilience within the community.
Each household that joins the service receives a Solar Home System that can generate sufficient power to run lights, cell-phone charging and energy-efficient media appliances such as LED TVs, radios, and even fridges. 'iShack Agents' take care of installations, operations and maintenance, and all live in the community that they serve. Weekly training is provided to give the Agents the skills necessary to deliver a high quality, durable solar energy service.

From a well-being perspective, this is significantly making a difference in the lives of the residents. It further reduces the potential fire hazard from candles and paraffin and improves air quality. Moreover, it reduces the number of illegal electrical connections.
Outcome:
Improvement of 3,000 lives; free basic electricity municipal grant secured
1026 solar systems to date installed with 92 556 kWH/year saved
11 jobs created for shanty dwellers; R 182,000 external finance raised