Government dialogue on natural capital approaches to support ecosystem restoration
Join us on the 19th October at 9-10:30 am CEST.
By

GEC

·

15th October, 2021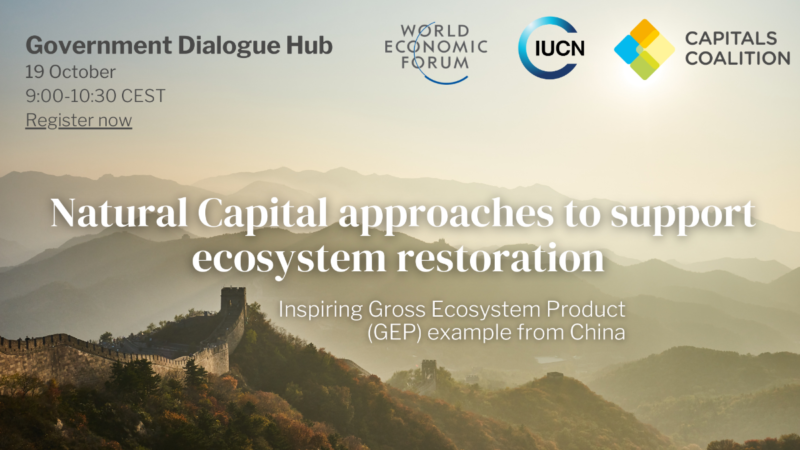 Entering the UN decade of ecosystem restoration, policy-makers are increasingly concerned by the urgency to monitor natural capital to best plan actions. In the October Government Dialogue session, organised by Capitals Coalition, IUCN China and the WEF, discover the inspirational Chinese example of Gross Ecosystem Product and the world's largest payment for Ecosystem service scheme.

We'll be speaking the 19th October session at 9 – 10:30 am CEST.

Session
This unique session will focus on China's experience using the Gross Ecosystem Product (GEP) as a new measure of progress of eco-civilization.

Chinese high-level experts from national to local government institutions will present the science behind China's approach to account for natural capital. They will share how the GEP helps to inform policy decisions to restore ecosystems. Speakers will also explore the interlinkage with eco-compensation to farmers and overall ecosystems' contribution to human well-being. International specialists will reflect on this inspirational example and its replicability in other countries to accelerate the transition to a Green Economy. The audience will be able to interact through the moderated questions & answers discussion.

Speakers & agenda

Welcoming from organizers
• Martin Lok, Executive Director at Capitals Coalition
• Chunquan Zhu, Head of Nature Initiatives at World Economic Forum Beijing Representative Office, China
• Zhang Yan, Country Director, IUCN China

Presentation on Chinese GEP and nature's values for people well-being
• Zhiyun Ouyang, Director General, Research Center for Eco-Environmental Sciences, Chinese Academy of Sciences

Presentation on GEP and it's role for ecosystem restoration and eco-compensation
• Xin'an Zhang, President, Chinese Academy of Natural Resources Economics, Ministry of Natural Resource

Presentation on practical application
• Local government of Shenzen

Reflection on the GEP example and its replicability in other parts of the world
• Carls Obst, Director IDEEA Group

Reflection on the transition to a green economy world
• Najma Mohammed, Policy Director of the Green Economy Coalition

Moderated question and answers
• Moderator: Ming Luo, Director General of the Key Laboratory of Land Consolidation and Rehabilitation, and Deputy Director-General of Land Consolidation & Rehabilitation Center (LCRC), Ministry of Natural Resource

Closing by the organizers

More information
The event builds on the momentum of the fifteenth meeting of the Conference of Parties of the Convention on Biological Diversity – hosted by the Chinese central government. The first part will take place virtually from 11 to 15 October 2021, and the final negotiation will be in Kunming from 25th April to 8th May.

The event is organized by Capitals Coalition in partnership with the World Economic Forum and IUCN China and with the participation of the Chinese Ministry of Natural Resource, and the Chinese Academy of Science). Simultaneous interpretation will be provided in English and Mandarin.