Government Dialogue on Natural Capital Accounting
On July 13th we'll be joining with Capitals Coalition for a webinar on integrating the value of people and society into decision-making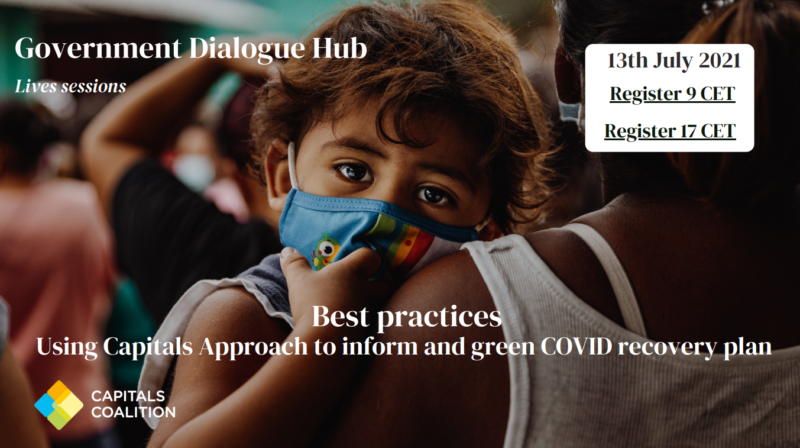 COVID-19, climate change, nature loss and rising levels of inequality are fundamentally changing the traditional context for decision-making.
Increasingly, actors around the world recognize that all of these issues are fundamentally interconnected, and that an integrated approach to address them is essential if we are to realize societal goals.
An integrated capitals approach provides governments with the information needed to deliver a green recovery, and illuminates the areas where a single smart intervention or policy can provide cost-free co-benefits for nature, people, communities and economies​.
Speakers & Agenda
This Government Dialogue session will show how governments are already using Natural Capital Accounting to inform policy decisions and explore how the value of people and society can be integrated into decision making to build back better. We are delighted to inform exceptional speakers:
Welcome, Natalie Nicholles, Senior Director Capitals Coalition.
Greening the recovery to make it last: the role of Natural Capital Accounting, Paul Lucas, Researcher Sustainable development, Department of Integrated Environmental Policy Analysis, PBL Netherlands Environmental Assessment Agency.
Indonesia's Agenda on Sustainable Recovery from-COVID-19 Pandemic, Amalia Adininggar Widyasanti, Deputy Minister of Economic Affairs, Ministry of National Development Planning of the Republic of Indonesia.
Piloting natural capital accounting for the United States and its use in decision making, Kenneth Bagstad, Kenneth, Research Economist, U.S. Geological Survey Geosciences & Environmental Change Science Center.
Uganda's experience in driving the Green Economy Recovery based on Natural, Human and Social Capitals considerations. Sam Mugume Koojo, Principal Statistician, Macro Economic Policy Department, Uganda Ministry of Finance, Planning and Economic Development.
Reflection on levels of changes, the use of Capitals Approach to prioritize actions for Government and Business. Martin Lok, Executive Director, Capitals Coalition
Panel discussion with speakers and Q&A with the audience, Oliver Greenfield, convenor, Green Economy Coalition