From Cape Town to beyond
Reflections and next steps from our recent Global Meeting as we begin our tenth year as a coalition
By

Oliver Greenfield

GEC

·

18th January, 2019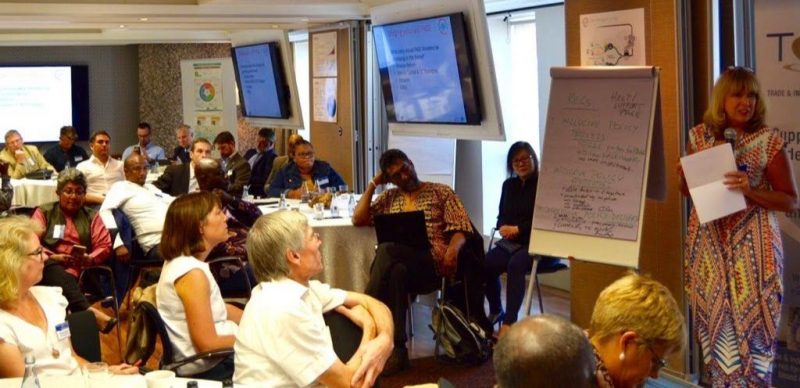 Last week the Green Economy Coalition (GEC) gathered for our 7th Global Meeting. On behalf of the Secretariat and Steering Group, we wanted to thank everyone who came or contributed remotely – thank you for your time, your insights, your collective energy. For some of you, this was your first encounter with the GEC - we hope you valued it as much as we did. For others, particularly those who travelled great distances to share their practical green economy work, your insights bought this transition alive. To members old and new, thank you, it is all your energy and commitment that are driving the transition from the ground up and can take it to the next stage.
To reiterate our position as a global alliance: First, the GEC is an open collaboration – a movement that is growing through partnership and we want to work with you. Second, we are an alliance focused on action – we drive partnerships to get things done. Finally, as we reach our ten-year anniversary we are now developing a new strategy commensurate to the scale and urgency of the challenge. We invite you to be part of this strategy development – we will be sharing an online consultation soon – do help us shape our next steps together.
Looking back to the UN-PAGE Ministerial and our Global Meeting, we bring you five reflections.
1. The transition is happening, and it's gathering pace.
Ten years ago governments were unable to come to an agreement in Copenhagen on climate action and there was little understanding of the economic case for taking action on the environment. Today, we have global institutions dedicated to understanding the relationship between the economy and our environment; we have over 9 trillion of private investment has been invested in the green economy since 2007; over 70 governments have green economic national plans. It is a movement that is growing and increasingly relevant to the interconnected challenges of climate, biodiversity, persistent poverty and growing inequality. An inclusive green economy is the 'how' of SDG achievement.
2. 'Inclusion' is not a nice to have, it is the vehicle of the transition.
While much progress has been made in the last ten years in terms of institutions and frameworks, the transition is now getting stuck in technical debate and planning processes. There is still insufficient demand for greener economies driving our markets and our governments. Greener choices and decisions are not the first choice of voters, consumers and citizens.
This is why social dialogue and the democratisation of this change is critical. The anti-apartheid and civil rights movements were not powered by business or government – they were driven by people. While institutions such as the UN talk the talk of 'inclusion', evidence of practice is low. The GEC aspires to the title – 'the people's movement for a green economy'. Our networks of small enterprises, activists, public figures, researchers and citizen groups are working to catalyse societal demand. But we cannot rally, inspire and mobilise if our networks are treated only as an addendum to decision making.
3. The voice of nature is missing from green economic debate and action.
Oddly, nature is underrepresented in current green economy debates. This is despite dire warnings from IPBES, WWF and others that biodiversity is in crisis and we are on the cusp of a major extinction. A 2018 study found that 58% of the Earth's land surface - home to almost three quarters of humanity - had already lost enough biodiversity "to question the ability of ecosystems to support human societies." The carrying capacity of the earth must guide and inspire the movement for greener economies.
4. We are calling for structural economic reform.
Dismantling the 'brown' economy is as important as growing the green economy. That requires alternative governance and measurement systems, reforming our financial systems, transforming economic sectors, tackling inequality and valuing nature - our five themes of the green economy.
5. Our next step needs to be a giant leap.
The GEC needs to grow significantly, geographically, thematically and in confidence. We need to better champion those groups who have been marginalised from the brown economy – young people, women, informal workers, small businesses. We must build a true 'people's movement' that cannot be ignored, so that a new social contract can be developed between society, government and business – "to deliver the economy and the future we want – one where nature thrives, livelihoods are improved, and everyone has a stake".
These are just a few of the headlines we heard but we also want to hear yours – please share, comment below, and help shape the debate.
Thank you again, I hope you had safe travels home and I hope more than anything that you decide to continue your journey with us.

- Oliver, Catriona, Emily, Chris, Stuart, Ben, Mao, Gaylor (the GEC global and SA teams).
Filed In
Theme
Associated Hubs