Davos - Working Together, Restoring Trust?
Our convenor Oliver Greenfield reflects on the theme of the 2022 World Economic Forum - the importance of trust
By

Oliver Greenfield

GEC

·

26th May, 2022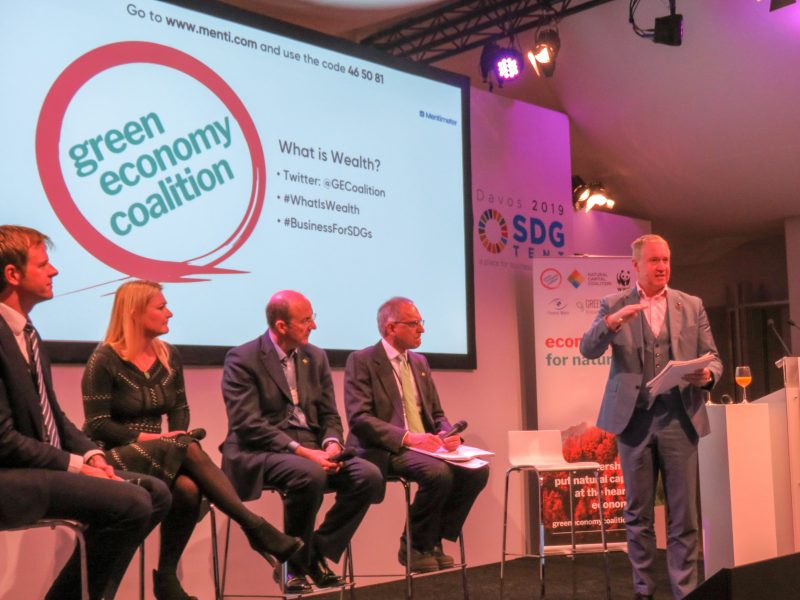 Instinctively, I want to trust. I think we all do. Trust and cooperation are key factors in human evolutionary success.

I want to trust that this year's World Economic Forum (WEF) will take committed action to address the global crises that are piling up – after all, the theme of this year's gathering is Working Together, Rebuilding Trust.
Instead, I feel sceptical that this illustrious gathering is serious about rebuilding trust. I am cynical that this event will result in collaborative costed action plans to the scale that we need if we are to transform our economies and societies to be more sustainable and fair. Davos aims to "engage the foremost political, business, cultural and other leaders of society to shape global, regional and industry agendas," according to its website. But this aim, however admirable, has seen not enough action when it comes to delivering on a more sustainable and inclusive world.
The week after WEF this year is Stockholm+50, a crucial high-level UN meeting on the environment. The proximity on the calendar of two huge gatherings, both coordinating multilateral movements born within a year of each other (WEF, 1971, UN Sustainable Development 1972), is noteworthy. Both are celebrating fiftieth anniversaries in the shadow of our collective failure over the five decades of their existence to reverse declining metrics on climate, biodiversity, poverty and inequality.
I find it hard to bridge the gulf between the two events and movements. It cannot forever stay this way. We need the wisdom and commitment of Stockholm to meet with the power and wealth of Davos.
The Doomsday Clock Stands at 1 Minute to Midnight
Surely, this 50th (UN) and 51st (WEF) anniversary is a moment when truth must be spoken. 50 years on and we need to get serious. We need to do more, with greater commitment. We need to do it quicker and we need to address historic inequalities while we are at it, if we are to avoid terrible consequences for people and the planet.
Last month at the launch of the latest cataclysmic IPCC report there was an extraordinary intervention from Antonio Guterres, UN Secretary General "Government and business leaders are saying one thing but doing another. Simply put: they are lying. And the results will be catastrophic."

In other words, those who drive economic policy remain blind to the climate catastrophe, our dependence on nature and to growing social injustice. Instead, we are subsidising the destruction of nature and society to the tune of $1.8 trillion.
Given the disconnect between rhetoric and reality, does this mean WEF is a failing institution? Can it hope to rebuild trust in an increasingly chaotic and precarious geopolitical climate, while trust is in short supply? The latest Edelman Trust Barometer suggests that less than half of respondents trust their governments. Concerns over fake news is now at an all-time high of 76%. Majorities in every developed country believe that they will be worse off in 5 years' time. WEF is right, there is a deficiency of trust and this context matters.
Why does this matter?
Trust is a critical component of social capital. Social capital is defined as the features of social organization that facilitate coordination and cooperation for mutual benefit. We need huge amounts of social capital to deliver a green and fair transition.
To avoid the worst impacts of global heating, this transition will necessitate shutting down entire economic sectors (notably fossil fuels).
" Livelihoods will be impacted; risk, loss, damage and major costs will need to be managed. Reskilling and compensation will be required, there will be investment volatility, historic inequalities will need to be considered and significant new wealth opportunities may be created and captured by a few."
Such a radical transition will always be disruptive, even at the best of times. If it is not managed well (and the Edelman research suggests that currently, it is not) it risks becoming traumatic.
Rebuilding Trust
So, a successful transition requires a rebuilding of trust. How do we do that?
GEC's answer is that a precursor to economic transition is building a social contract. Social contracting is a rigorous societal engagement process that defines the priorities of societies. Engaging with citizens through dialogue and deliberation will allow the transition to address the structural inequalities of the past, mitigate and compensate communities directly impacted by these changes, and build a sustainable mandate for change that addresses the concerns and priorities of diverse communities.
Over the last few years, the themes of the WEF's annual meetings have been spot on – 'stakeholder capitalism', 'the great reset', and now 'working together, restoring trust'. Despite this focus on all the right things, there has been little in the way of delivering the right results. It is hard not to just focus on the 50 years of lost time despite scientific warning of doom. It is hard to trust when the chasm between the rhetoric of identifying the right levers and the reality of failing to use them is so large.
Actions not words
So, how can WEF build trust? If WEF is serious, we need to see an ambitious costed plan to rebuild connections between communities, invest in green transition and start to structurally reform global institutions. Unless the economy starts to benefit the many instead of the few, people will be no more likely to trust those at the top of our societies than they are. And if the businesses, governments and wealthy elites who meet at WEF continue to ignore climate change, biodiversity collapse and rampant inequality – then why should we trust them?
Asking for trust without change is an exercise in futility. Enough talk. Walk the walk.
Oliver