Convenor Update - April 2017
By

Oliver Greenfield

GEC

·

19th April, 2017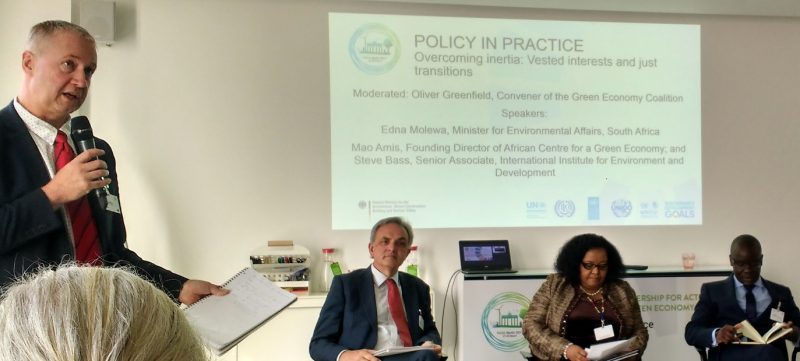 We recently returned from the year's biggest green economy event – the 2017 PAGE ministerial, and our members had mixed reflections.  Positively, as a community we have come some distance: the number of PAGE countries expands, the conversations are more precise (particularly on finance), and there is confidence on the accelerating nature of the transition.  But, it is still mostly about renewables… or about piloting economic models at the fringe. Are we having a robust debate, with the right actors, about genuine global economic reform? Frankly, not yet. 

However, there is one shiny nugget to report on – the kind of observation that is only ever found on the fringes of conference halls.  At a senior German government and industrialist dinner on the eve of the conference, the consequences of VW emissions scandal are still hitting home and prompted the phrase "…we [Germans] are considering the end of the combustion engine". This is no small thought. The rigour with which the Germans have tackled their energy transition – the Energiewende – gives hope to this new sectoral transition. 
But we must step back and recognise our work building towards green economies is set within the global context of rising nationalism and populism – or perhaps, the rise of movements unhappy with the current economic model and its political enablers. 
One GEC ambition is to connect both these worlds, and our approach is emerging around the slogan of 'green must be fair' – the aim of putting the improvement of everyone's livelihood at the heart of the green economic transition.  One test of our relevance is whether green economy can take root in the rust belts of the west? Check out the blog on greening the steel industry.  And can it create decent jobs – check out Kamal from ILO's piece.  Back to PAGE – we were delighted that many of our partners joined us in Berlin to promote this green must be fair line and showcase their pioneering work – see both the pioneers brief below and our Green Must Be Fair open letter. 
Finally, it is with great pleasure that we welcome three new organisations to the Coalition. The Equality Trust whose founders wrote The Spirit Level, bringing evidence of the societal benefits of fairness, Stockholm Environment Institute (SEI) whose change model puts stakeholder engagement at its heart, and Christian Aid who have bravely pioneered work on economic justice. We welcome them warmly and feel emboldened by their partnership. Together we are a step closer to making green and fair economic reform the main political debate.

Oliver Greenfield, Convenor, GEC