Are skills the missing piece in green transitions?
Skills and training in new green technology are essential for a truely green economic transition, argues the GEC's Najma Mohamed.
By

Najma Mohamed

GEC

·

11th September, 2020
Almost a decade ago, sitting across from me and discussing the need for green skills in the shipping industry, was a senior marine engineer from Cape Town, South Africa. Rapid green technological upgrades in Europe and Asia had meant that engineers, technicians and apprentices could not attend to many repairs when ships docked in South African ports. Technicians were being flown in for one week, just to service ships when they arrived. The industry was going green in theory, but not in practice. Workers needed the skills to match.
Globally, the transition to green economies and actions to limit greenhouse gas emissions could create 24 million jobs by 2030 according to the ILO. Others estimate this to be even higher. IRENA found that accelerated uptake of renewable energy and energy efficiency measures could boost total clean energy jobs globally, from 11 million at the end of 2018 to 100 million by 2050. In a 2020 report, WEF suggest that if businesses prioritise nature in investments, nature-positive solutions can create 350 million jobs by 2030.
Green jobs, the new jobs that are created as industries and sectors transform, are a core outcome of green transitions, the ILO and UNEP found that at least half the global workforce - the equivalent of 1.5 billion people – would be affected by the transition to a greener economy.
The creation of new and additional green jobs, as well as the successful reallocation and upskilling of workers "is entirely dependent on workforce access to training and related policy measures". Green skills, to adapt products, services and processes to climate change and attendant environmental requirements and regulations, will be needed by 'all sectors and at all levels in the workforce'.
Skills are one of the drivers to achieve a just transition to a green economy, yet skills mismatches and shortages are among the key obstacles to green transitions. For skills to become central in transitions – and in a green and just recovery from the global COVID-19 pandemic, the identification, anticipation and provision of green skills is crucial.
" Few countries have yet reoriented their skills systems in line with their green ambitions"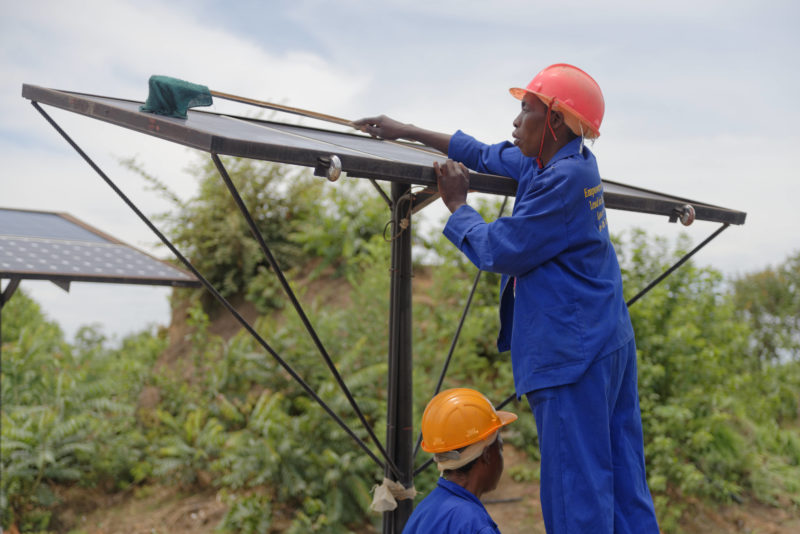 Skills should be in step with transition policies and pathways
Even with the growth in analytical models and approaches to assess the skills needs of green transitions, there are systemic challenges to promoting green skills. These include: a lack of structures to deal with green skills as a cross-cutting concern in the education and training landscape, a lack of education and training opportunities and dated curricula in education and training institutions. Labour market analysis instruments do not capture green occupations, and for the most part, there is a discord between skills and environmental policies. Few countries have yet reoriented their skills systems in line with their green ambitions, but nations like the Philippines and France are among the first movers.
In the Philippines, skills identification, training and worker certification for green jobs in a range of industries and economic sectors has been included in the country's Green Jobs Act of 2016. The Philippines has developed a comprehensive and coordinated plan, ambitious in its skills development objectives and regarded as preparing the Filipino workforce for a green economy. This includes development of a National Green Jobs Human Resource Development plan to identify skills development needs across economic sectors, in different industries and at various levels. A green skills hub, led by the Philippines' Technical Education and Skills Development Authority, TESDA, is leading this effort. Already a total of 20 technical and vocational training regulations have "green" competency components.
Stronger synergies between skills and environmental policies, an education and training system in tune with anticipated labour market shifts and the knowledge and capability to identify and anticipate green skills needs is essential if countries are to benefit fully from green transitions. We must have the skills to go green.
Social and lifelong learning should be embraced
Bangladesh is among the most climate vulnerable countries in the world. In 2018, I visited the Climate Technology Park – 60 km north of Dhaka. Expecting a showcase of high-tech climate innovation technologies, the park embraced a variety of interactive and hands-on learning methods to demonstrate the more than 50 technologies targeting poor rural communities, but also adapted for the country's climate and ecological context.
The park had placed learning, research and capacity building, aimed at rural communities, at its core. It is designed to demonstrate the five main ecological zones of Bangladesh, identifying the main climate change impacts on each zone, and showing how people (and technologies) can better adapt to it. These climate technologies are relevant to not only the ecological and climate context of Bangladesh, but also to the various skills levels. The Climate Technology Park demonstrated the importance of equal access to relevant and appropriate green skills. The right skills and the right skills delivery mechanisms - is key.
Investing in learning and education is core to green transitions. Learning happens not only in the classroom and universities, but in boardrooms, homes, factories, farms and shipyards. It should focus not only on skilled or semi-skilled jobs, but on skills needed by entry-level workers and workers operating in the informal economy. If the creation of green jobs is to be inclusive, skills development should embrace lifelong learning and include vulnerable and marginalised workers, groups and communities.
Societal demand can drive green skills
Students Organising for Sustainability (SOS) is a UK-wide educational charity that focuses on delivering programmes and campaigns that enable students to develop the 'knowledge, understanding and competences to act on sustainability'. Among its most recent campaigns has been petitioning governments for a green recovery from the COVID pandemic in the UK. A long-running global campaign, Teach the Future, is a call by secondary and tertiary education students 'to repurpose the education systems of the world' around the climate emergency and ecological crisis.
Through this campaign, SOS maintains that both current and future generations of students are growing up in a world 'greatly affected by the climate and environmental crises, and deserve to be taught about this'. A paltry 4% of students surveyed by SOS said they knew enough about climate change, while 68% of students want to learn more about the environment.
The organisation has rooted its demand in the UN's SDG target 4.7. which centres on sustainable development and global citizenship. The target aspires that, by 2030 "all learners acquire knowledge and skills needed to promote sustainable development…and sustainable lifestyles". Societies, workers and communities need to demand, like the students of SOS, knowledge, education and training that help develop the 'skills to live sustainably'.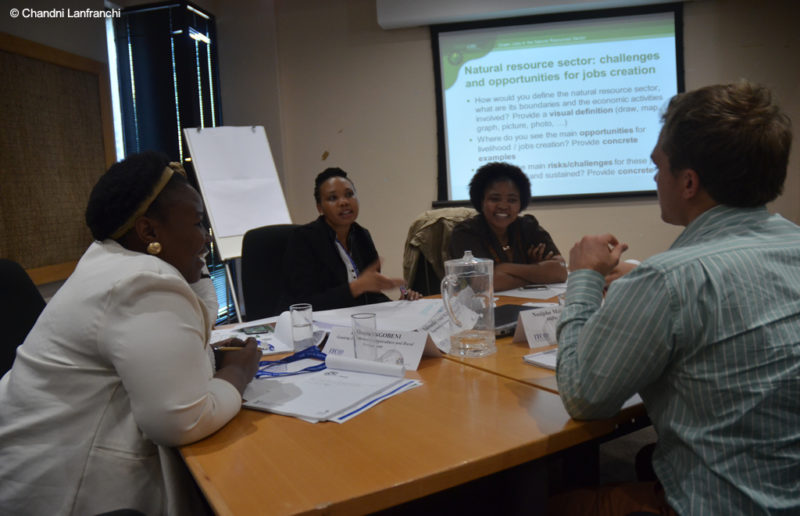 Skills can boost green transitions
An economy-wide transition will impact how we produce and consume, live and work. And it will shift what we need to need to learn (and unlearn). Green economic restructuring will have a profound impact on the labour market – and the impact on skills development will differ considerably, even within a country, given the focus on different economic sectors, varying skills levels, and diverse education and training capacities.
ILO's Guy Ryder affirms that with the right policies and training, countries and regions can plan, design and implement a just and inclusive transition to a green economy. "Reskilling and up-skilling are important not only because they underpin a just transition. They will also help to ensure a human-centred approach to the future of work."
Building systems of green skills research, planning and analysis – which is relevant for the labour market and reflective of the sustainability pathways and vision of a particular country or region, is needed. Green skills can be one of the enabling factors for just and inclusive transitions to greener economies. And investing in education and training is vital for a 'strong and sustainable' recovery as we face the global challenge of skilling our economies for a greener and more resilient future.
Najma Mohamed, Policy Director, Green Economy Coalition

Najma recently contributed to the book Green Skills Research in South Africa: Models, Cases and Methods that presents a new, embedded transitioning systems model for studying skills for a sustainable, just future.