5 reasons why clean energy is unstoppable
By

Kevin Haley

Guest Author

·

26th January, 2018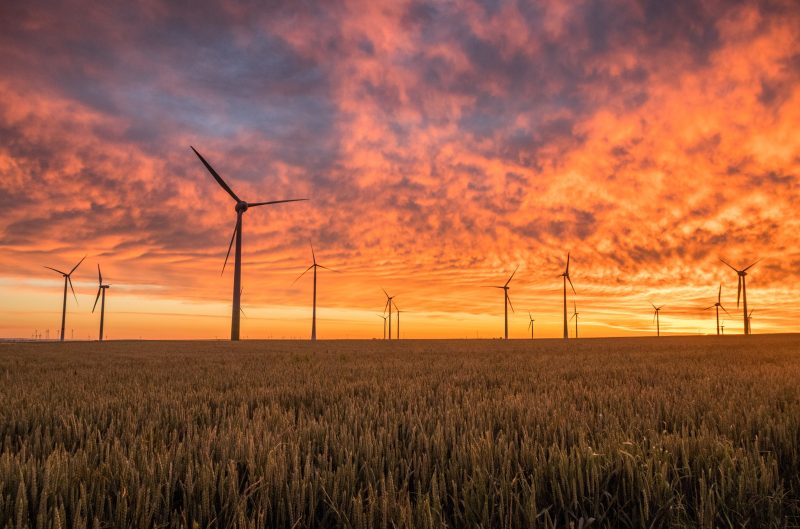 Energy used to be a boring industry—no pun intended. For over a century, the proven formula for success was to drill, mine, generate, and consume more energy than the year before. But in 1976, a young energy analyst named Amory Lovins decided to question that paradigm in an article titled "Energy Strategy: The Road Not Taken?" This line of questioning kicked off a 35-year shift in the energy sector, giving rise to incredible innovation and a fundamental move away from legacy fuels and toward clean, cheap, low-carbon electricity and energy efficiency.
Out of this shift has emerged a new, exciting industry that's poised to make energy cleaner and cheaper than ever before. In fact, no longer must we wonder whether renewable energy resources can power our future economy, but rather, "how quickly can we reach a truly low-carbon future?"
Simply put, it's now safe to say that clean energy isn't just winning—it has officially won. As we focus our efforts on accelerating the adoption of clean energy, here are five compelling reasons why the clean energy future can't be stopped.

1. Follow the Money 
Perhaps the most surefire proof of a global transition to clean energy is to follow the money. The research teams at Bloomberg New Energy Finance (BNEF) report that "Renewable energy sources are set to represent almost three quarters of the $10.2 trillion the world will invest in new power generating technology until 2040." Even more significantly, across the Asia Pacific region (including the Chinese and Indian economies), BNEF reports that renewables will account for more than 60 percent of new energy investments, versus just 10 percent for coal and gas generation. That sounds like a ratio that could make a difference!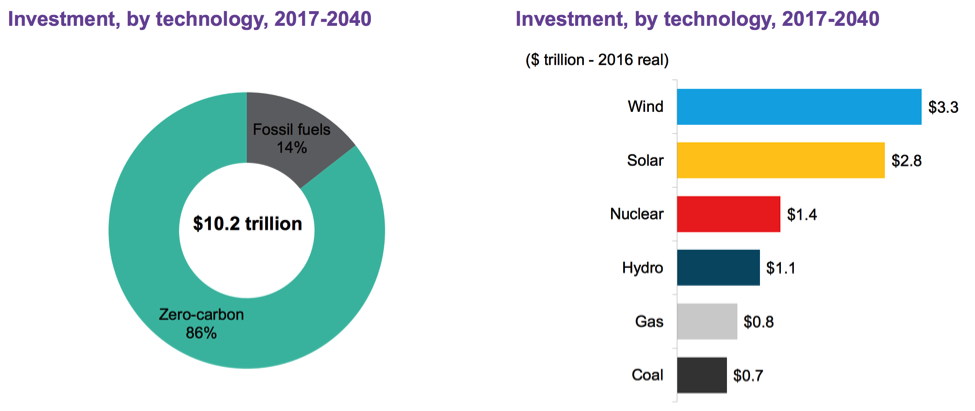 Source: Bloomberg New Energy Finance


Meanwhile, the market for green bonds—investment securities that generate money to be used for projects with environmental or climate benefits—has soared to record heights. Green bond issuance reached $155.5 billion worldwide in 2017, up 78 percent from the previous year on strong backing by the United States, China, and France. Finance experts predict additional exponential growth in 2018 and are optimistic that green bonds could be a $1 trillion market by the end of 2020.
When faced with the overwhelming amount of money flooding the sector, it's hard to argue that the future will be anything but renewable-powered.

2. Renewable Energy's Biggest Myth Goes Bust
The "expensive" renewables myth is dead and we killed it. In late December 2017, RMI announced that construction began on a 3 MW solar project in New Mexico that will sell its power below 4.5 cents per kilowatt-hour. This price is officially the lowest reported contract for distributed photovoltaic solar energy across the entire U.S., beating coal prices that average 6 cents and up per kilowatt-hour and competing with natural gas prices averaging 4.2 cents and up, according to Lazard.


But wait, there's more. In January 2018, Colorado utility company Xcel Energy received "shockingly low bids" for electricity from renewable sources. How shocking? Wind power bids had a median average price of 1.8 cents per kilowatt-hour, and solar's median bid was 2.95 cents per kilowatt hour. Even with storage technology costs included—allowing renewables to generate 24/7 just like fossil fuels—the average wind price was 2.1 cents per kilowatt hour and the average solar price was 3.6 cents per kilowatt hour. According to the Denver Post, if wind bids come in at 2 cents per kilowatt hour, customers would save $175 million versus building new fossil fuel plants.
If there's one thing these stories tell us, it's that the bogus myth of "expensive renewables" is well and truly dead. Not only will the low-carbon economy be better for the environment, but it will be better for electricity customers as well.

3. Big Business is All-in on Renewables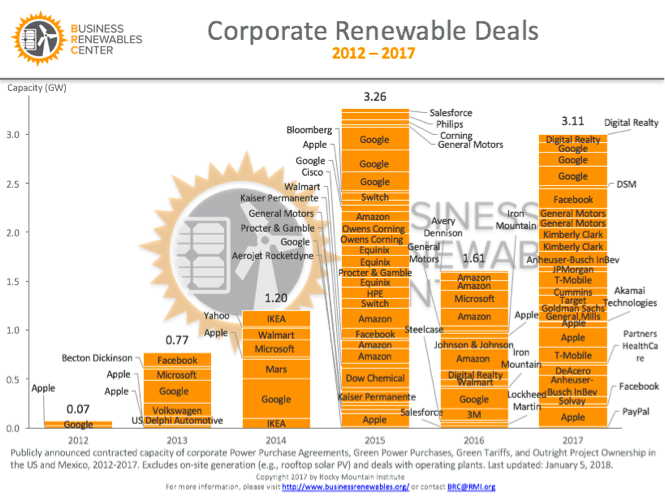 Source: RMI's Business Renewables Center


In 2017 corporate renewable energy buyers reached a cumulative 10 gigawatts (GW) of new renewable energy projects. This milestone means that corporate-backed renewable projects now power the equivalent of more than 7 million homes. And as more companies make the choice to buy renewable energy to power their operations, the market is responding to enable smaller, more diversified companies to transact as well.
In the past year, companies buying renewables ranged from high-tech players like Google and Facebook to heavy industrials like Cummins and auto manufacturers like General Motors. Even beer giant Anheuser-Busch InBev got in on the action with not one, but two renewable energy purchases including a massive wind farm in Oklahoma. Combined, these businesses and their peers contracted for 3.11 GW of power last year, the second-best year ever for corporate renewable energy buying.
It's important to realize that these companies buy renewables not because they have to, but because it's good for business. With more than 10 GW of new renewables coming online due to corporate buyers, the tide is turning against naysayers who believe renewables are only viable due to government intervention.

4. Dead Man Driving
The days of internal-combustion-powered transportation appear to be coming to a rapid close. Over the past year or so, governments in China, India, France, Britain, and Norway all announced that they are considering bans on gas and diesel cars. In addition to the proposed internal combustion engine (ICE) bans, a number of countries are creating official sales targets for electric vehicles (EVs), including Ireland, Japan, Korea, and Spain.
And as we see with corporate renewable energy buyers, the private sector is primed to play a major role in catalyzing the shift to low-carbon EVs. At the 2018 Detroit Auto Show, Ford Motor Co. announced that it plans to grow its investment in EVs to $11 billion by 2022—nearly a 250 percent increase over initial plans to spend $4.5 billion by 2020. Analysis from Reuters shows that this commitment brings the overall EV investment pipeline from global automakers to $90 billion. General Motors alone plans to bring 20 new battery and fuel-cell electric models to market by 2023.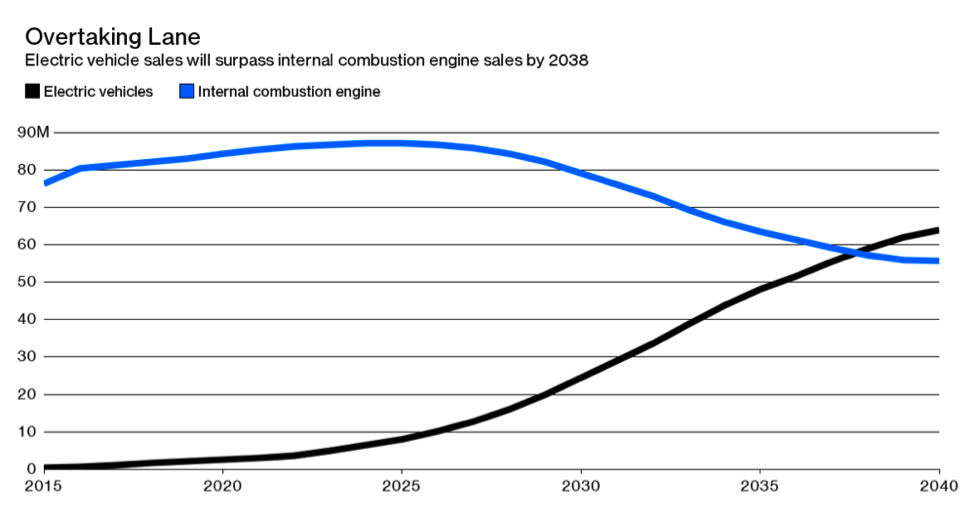 Source: Bloomberg New Energy Finance


Between governments seeking to control pollution and reduce carbon emissions from the transportation sector, and a rapidly evolving private sector eager to make money off the electrification transformation, it sure looks like the Tesla has left the garage for good on EVs.

5. Big Oil and Gas…And Renewables?
The renewables revolution is here to stay, but don't take it from us. Take it from the likes of Shell, BP, and Exxon. These oil and gas giants are already planning for a low-carbon world with new investments in renewable energy companies and new climate initiatives in the wake of pressure from key shareholders.
In January 2018, Shell announced an investment of up to $217 million in a Nashville-based solar company. Shell's VP of solar explained the decision by saying, "This joint venture partnership progresses our new energies strategy and provides our U.S. customers with additional solar renewable options." Meanwhile, just one month earlier, BP announced its plans to invest $200 million in a major European solar developer.
While these are still relatively small clean energy bets compared to what these companies spend on their core business, this is a trend we're going to watch closely.
Winning Isn't Enough
The evidence certainly suggests that renewables have won and a low-carbon future is all but inevitable. But unfortunately, that's not good enough. Climate change still represents an existential threat to our way of life as we know it. While 2017 ranked as the second-hottest year since 1880, the Trump administration continues "dismantling efforts to fight climate change."
Needless to say, despite the good news on clean energy's promises, now is the time to redouble our efforts and accelerate the transition to a low-carbon economy. To quote Amory Lovins in 1976, "We shall not have another chance to get there."

Kevin Haley, Marketing Manager, Rocky Mountain Institute
---
This article is reposted with permission from the Rocky Mountain Institute
Image credit: Karsten Würth (@inf1783) on Unsplash