Uganda
Blessed with fertile soil, regular rainfall, and strong year-round sunlight, Uganda has the potential to become a green economic powerhouse, powered by organic agriculture and clean energy. Two thirds of Ugandans work in agriculture, and the country has already made real progress in transforming conventional agricultural production into a world-leading organic farming system – creating jobs, delivering export income, and protecting the environment in the process.
And that's just the start. Research has found that green economic policies could boost GDP by as much as 10%, delivering an extra US$3.4 billion in growth by 2020, all while creating 4 million new jobs and reducing carbon emissions by almost a third.
But there is still much to be done. Despite impressive economic growth in recent years, Uganda remains one of the 20 poorest countries in the world, and has struggled to tackle issues of sanitation, energy access, and malnutrition.
Building a green Ugandan future
Driving the green transition is our partner in Uganda, the Advocates Coalition for Development and Environment (ACODE). An independent public policy, research, and advocacy think tank, ACODE is the hub for the GEC's work in the region, helping to
Build an engaged network of citizens, charities, and organisations working on the green transition across Uganda and the East African region
Research new tools for policy makers to support inclusive, sustainable green development
Engage politicians and the private sector on the opportunities and options for green growth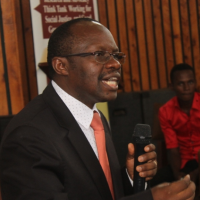 "ACODE is proud to be the GEC partner and bring to the coalition its high-level convening power enjoyed in Uganda and indeed the entire of East Africa. Together we shall make Uganda a regional model on the Green Economy."
Meet our partners: